Photo: instagram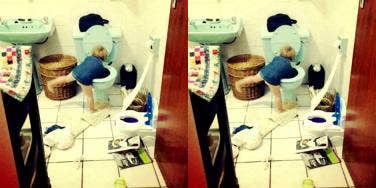 Hahaha.
Kids are cute, sweet, loving, funny, and surprising, but they're also whiny, messy, demanding, tantrum-throwing little beings. Not everyone can handle having children and those who choose to become parents have my admiration. You must have the patience of a saint to be a parent, plus so many other talents such as being a teacher, an advocate, a nurse, and sometimes a disciplinarian.
Parenting is not for everyone but people often don't understand why someone would choose not to have a child. We're not all cut out to be parents, and isn't it better for non-parents to realize this and not have a child rather than have one and be miserable?
Some of us would rather be fabulous aunts and uncles and family friends, where we can spend time with children in controlled periods of time; even the best parents need a trusted babysitter from time to time.
There are so many images in the media that show only the cutest and sweetest moments of having a child. Aww, look how cute that little girl and her puppy! Look at that beautiful boy playing in a heap of leaves! There's rarely a photo that reveals the true nature of childhood — the good and the bad moments, the tantrums, and the breakdowns.
The Ellen Show started a segment called #WhyIDontHaveKids where Ellen had people (parents and non-parents alike) send in photos that highlighted more difficult times in parenting.
Yes, kids are cute, but it can be difficult to remember it when they've just drawn a crayon masterpiece on your living room wall or covered every surface of your kitchen in flour.
One of the best ways to release tension is through laughter and we've compiled some pictures from this hashtag that are both hilarious and honest. They show some of the most challenging aspects to having a child.
Photo: instagram.com/alec_swb
1. Little artist at the table.
They're going to be finding confetti and glitter for the next five years.
Photo: instagram.com/terrywardferguson
2. Using your brother as a human canvas.
Babies are fun... to draw on with permanent markers!
Photo: instagram.com/pinkjelloray
3. Vomit adds a nice texture to your shirt.
Babies don't care if you're wearing your favorite shirt. They're going to spit up on it.
Photo: instagram.com/the_hippie_and_the_herd
4. He's making "art."
You never know what's going to end up on your child.
Photo: instagram.com/delaneymoss123
5. Dancing on a car seems safe.
Dancing on top of a car is an easy way to give your family a heart attack.
Photo: instagram.com/mumof5staysane
6. He wants to shave just like his dad.
Uh oh! How do I explain my way out of this one?
Photo: instagram.com/senful
7. That's a whole lot of stuffing.
You never know what kids are going to find to get creative with.
Photo: instagram.com/littlepotatogem/
8. Projectile baby vomit... one of the many joys of parenting.
Well, throwing up on Mommy is one way to let her know you're glad to see her.
Photo: instagram.com/obrienjenn/
9. Finger-painting the furniture adds some flare.
This is why we can't have nice things!
Photo: instagram.com/anabelvrgs
10. I wonder what this button does...
When you have kids, they pretty much control everything.
Photo: instagram.com/tcs13
11. Now that is multitasking.
Photo: instagram.com/camdensmommy28
12. He's gonna need a shower after this.
This kid needs an apron if he's going to do some baking.
Photo: instagram.com/sacasea
13. All parents can relate to the leaking issue.
Having children can make going to the bathroom much more complicated.
Photo: instagram.com/stefvh777/
14. This kid is a little bathroom tornado.
For kids, there's much fun to be had in the bathroom, and that doesn't include going to the bathroom.
Photo: instagram.com/simplysarasphoto
15. It's called "cereal art."
"I'm going to have to investigate this further."
Photo: instagram.com/cmg024
16. That's what happens when you keep fighting.
Sometimes parents have to get creative to get their kids to get along.
Photo: instagram.com/cynica_purple
17. This bear once had a face.
Just because it was your treasured teddy bear doesn't mean your kids won't rip its face off.
Photo: instagram.com/krissybsb
18. A beautiful face full of dry formula.
No need to add water to that formula mixture, your baby can wear it instead.
Photo: instagram.com/prettygirl_roc
19. Yes, she ACTUALLY fell in.
Who knew you could sit inside the toilet not just on it?
Photo: instagram.com/lorilorib
20. And this is when earplugs come in handy.
Sometimes, for a child, screaming at the top of their lungs is the best way for them to express what they're feeling.
Previous
Next
BEGIN