Photo: Courtesy of the author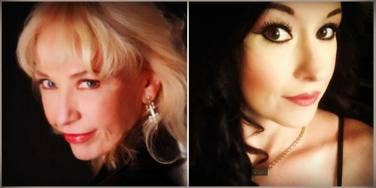 Who ya gonna call?
I have been fortunate enough to have some really cool jobs in my life.
I have been been a professional psychic, industrial spy, TV personality and producer, writer — and I've been a professional paranormal investigator.
I am also fortunate enough to see people who look like me (i.e., males) in TV and movies all the time.
So I find it refreshing (and much more similar to the real world) when I see characters in the media who represent people other than the good old-fashioned white male.
The new Ghostbusters movie featured an interesting twist on the original, in that all of the main characters happened to be women. That updated version, combined with the re-release of the original classic Ghostbusters (made in 1984), has sparked a wide-spread interest in both the paranormal and the practice of professional ghost hunting.
Why would a woman be equally suited — or perhaps even more qualified than a man — to do some ghost busting?
You can't really get physical with a ghost, you don't need muscles.
Women think better laterally than men do, so they are better equipped to solve multiple problems at once. The skill set which is most desired for paranormal investigations is composed of brains, knowledge of the sciences, local geography, and empathy. All of which are areas women tend to excel in more than men.
So it's quite natural to see a team of female ghostbusters — and the portrayal of such a team is far more than a gimmicky, plot-driven vehicle to make a politically correct film.
In the way that art so often imitates life, there are some amazing people out there who do investigate the paranormal professionally ... and who also happen to be women.
Having had the fortune to work with of these people, I thought it was well past time we put the spotlight on them — right where it belongs.
Here are 8 women who are REAL LIFE "ghostbusters" ...
Becky Ray
Becky Ray has been interested the paranormal since she was old enough to read and has spent her entire adult life researching locations and incidents that seem to otherwise unexplained.
She considers herself a skeptic in that she never goes into an investigation with any preconceived assumptions about what may or may not be going on. Becky is currently based in the Kansas City metro area.
Laura Moon (R.I.P. my friend)
Laura Moon's Bio was prepared by her best friend, ghost hunting partner and podcast co-host, Becky Ray.
"It is impossible for one person to sum up the life of another. Life is too rich, too complex and too mysterious.
Laura Moon was my best friend, confidant, and partner in crime. For almost seven years we broadcast a live weekly paranormal/comedy podcast and during that time we went on many adventures to several allegedly haunted locations.
Laura passed away suddenly in 2013 leaving a glaring hole in the paranormal community. I still miss her nearly every day."
Laura and Becky's podcast can be found archived on the internet as: Darker Side of the Moon.
Erica Behringer
Erica has always had a fascination in all things weird and macabre, but also a deep respect and adoration for history — which melded into a world of exploration and paranormal investigation.
Around 1999-2000, this curiosity began to spark her travels around the U.S. and Canada to unusual sites to find the stories and phantoms lurking therein. She's been featured on several television and radio/blog shows, as well as on various news outlets, and has had her photography featured in several books.
Her own show documenting her strange travels is in production now, and she will be publishing her first book along with its release.
Lisa Krick
Lisa has been interested in the paranormal her entire life, and a paranormal investigator for over 10 years.
Her approach is to look toward the logical and explainable first. If a noise, smell, or sound cannot be logically explained away, then she leans toward investigating a paranormal explanation.
Her forte is in audio, as she is a specialist in gathering electronic voice phenomenon — or as it's more commonly known: E.V.P.
Dr. Rene Kruse
Dr. Rene Kruse holds a PhD from Texas A&M University, and has taught applied engineering at the university level for 27 years. She has been researching and investigating haunted locations for 40 years.
Her first real investigation took place in 1976. Since that time, she has investigated over 300 paranormal events over the years. She has also co-authored three books on hauntings — And Hell Followed With It, A Pale Horse was Death, and Fear the Reaper — and has contributed chapters in others.
Rene has appeared in many paranormal TV shows and lectures for conferences.
Rosemary Ellen Guiley
Rosemary Ellen Guiley is a leading author, investigator and researcher in the paranormal with more than 30 years of experience and more than 60 books published.
Her specialty is in persistent negative hauntings and spirit attachments. She also runs her own publishing house, and is hosts Strange Dimensions, a radio show on the KGRA Digital Broadcasting Station.
Previous
Next
BEGIN