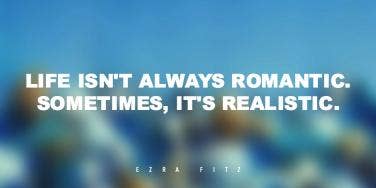 Why all this fluffy nonsense when you can just tell it like it is?
Being realistic isn't a BAD thing. As a self-proclaimed realist, I find that it's easier to reach my goals when I get myself into a realistic mindset. Why? Because I'm not afraid to fail.
Of course, every person operates differently. For one person, being realistic about life is all they need to achieve their biggest goals, but for another person, dreaming TOO big is what keeps them motivated.
Neither of these outlooks are wrong, but if you know what works for you, why change it ... right?
At least for us realists, we see that sometimes what seems nice and convenient for us in the short term doesn't always turn out to be a good thing after all. Thus is life. C'est la vie.
We see the world for what it is; not as a place where anything and everything can happen, but not a total failure either. We are the middle ground (the more logical one, of course) between optimism and pessimism.
And plus, we're able to clearly see the truth in both sides of a situation and come out unscathed. We know that success can come with some limitations, just like there is always a silver lining to failures.
We're not cynics. We don't always focus on the bad in life. We just plan for the worst and hope for the best. You can't be pragmatic without thinking about both sides, can you? No. Better smart than sorry. That's our motto.
So if you're a loud, proud, logical, practical realist, these quotes will ring true on SO many levels. Consider these quotes a go-to guide you can share with all of your not-so-realistic friends when they're trying to figure out JUST how your mind works.
If you're searching for the best quotes and memes to share with the people you love (or just want to feel inspired yourself) ... look no further! From the sweetest love quotes, inspirational sayings, and hilarious friendship truths, we've got you covered.
"I have big dreams and a realistic mind. You can only imagine my frustrations." — Andrew Durst
"A secret to happiness is letting every situation be what it is, instead of what you think it should be."
"A goal is a dream with a deadline."
"If you can't do anything about it then let it go. Don't be a prisoner to things you can't change." — Tony Gaskins
"One of the happiest moments in life is when you find the courage to let go of what you can't change."
"Things end. People leave. And you know what? Life goes on. Besides, if bad things didn't happen, how would you be able to feel the good ones?"
"The pessimist complains about the wind; the optimist expects it to change; the realist adjusts the sails." — William A. Ward
"Life isn't always romantic. Sometimes, it's realistic." — Ezra Fitz
"It's ironic how our hearts can still get hurt by something we've seen coming."
"Have no fear of perfection. You'll never reach it." — Salvador Dali
"There's a "hell" in hello, "good" in goodbye, "lie" in believe, "over" in lover, "end" in friend, & an "if" in life."
"See it for what it is, not what you want it to be." — Sonya Teclai
"What consumes your mind, controls your life."
"The power of accurate observation is commonly called cynicism by those who have not got it." — George Bernard Shaw
"Do what you can with what you have where you are." — Theodore Roosevelt
Previous
Next
BEGIN