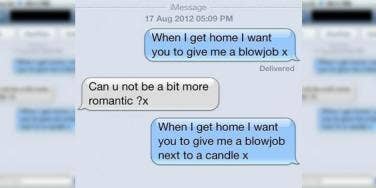 PEOPLE: Stop oversharing. Unless you want to be my entertainment.
Did you know today is the 25th anniversary of the internet going public? Where would we be today without all that information that's at our fingertips? Especially the more "shady" sides — the SEX content that makes up approximately 37% of the ENTIRE internet? (WOAH!)
Having sex (and reading about it) can be fun, and exciting — it can be a learning experience and one of growth. No wonder we're kind of obsessed with the subject. However, there are some people who tend to take their private sex lives and post it all over social media, and (for those of us not directly involved) it makes for hilarious internet fodder.
Here's the ultimate lesson for internet users these days: If you don't want your personal life out there, don't publicly post ridiculous things. Can you imagine your prospective employer finding a random post about your period, or a revelation that you like to poke holes in condoms? Unless you plan to work for Ashley Madison, I'm going to say these public posts could cause a problem for your future.
Here's a suggestion: Next time you think about making a comment on Facebook or tweeting out some really odd information about your penis or vagina, take a moment. Think about how that tweet will affect your family, your job, or your children. Or you can completely ignore me, do whatever you want, and continue to make my trips to the bathroom super enjoyable.
So go forth and and read all the funniest, most embarrassing sex quotes, questions and revelations right here:
If you're searching for the best quotes and memes to share with the people you love (or just want to feel inspired yourself) ... look no further! From the sweetest love quotes, inspirational sayings, and hilarious friendship truths, we've got you covered.
I think a trip to the bookstore for a dictionary is in order.
That's a lot of information to swallow.
That's a mistake you don't make twice.
Hardy har har. Thanks a lot "friend".
Oh, Nana, I hope that was a mistake.
OH! Do you want some lotion for that burn?
At least he gets the hint?
What happened to sex education in school?
I believe there's a bit of confusion here.
Maybe we're jumping the gun here.
OK, yeah. That was kind of hilarious.
This guy could use some pointers in the right direction.
This is why you don't friend your mom on Facebook.
Photo: FacebookBestStatus
Oh WOW. How embarrassing!
Not sure that's how it works...
So, I guess she should call off the family dinner, then?
I mean, you might as well be productive.
Yeah... there's no coming back from that one.
That poor, poor driver. He should get a BIG tip.
I think the scariest part is ... this whole tweet.
At least they have something to bond over.
File that under: Things That Shouldn't Go On Facebook
At least she passed her math test?
Why a nine-year-old shouldn't use a computer unsupervised.
Previous
Next
BEGIN