Photo: etsy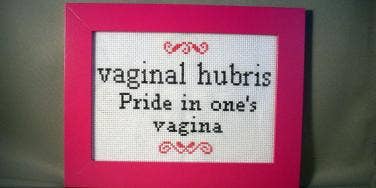 These ain't your granny's cross stitch projects!
I love two things: talking about the vagina, and cross stitch projects.
I mean, I love other things also, like clean sheets, cat paws, chewy chocolate chip cookies, a good book.
But if I'm being honest (something I pride myself on being here in this safe Tangolicious space), vagina talk and cross stitch are really the biggies.
You would think it would be impossible to incorporate the two.
After all, if I went into a Michael's and started talking about my vagina I would be tossed out of there before I could ask them where the embroidery hoops are located. And fair enough! What kind of sex pervert wanders the aisles of America's favorite craft store blurting out oral sex tips? Not me, no sir, no ma'am.
Luckily, we live in a modern age full of things like the internet and other vagina-happy loudmouths like yours truly.
Now more than ever before it is easy to take even our dirtiest pleasures and combine them with something as seemingly innocent as a home spun craft project.
My grandmother wasn't a crafter. She was a chain smoker and a gossip with a cutting sense of humor.
But if she'd known she could drink her gin while making a sampler that reads "VAGINAS" in beautiful gothic lettering, she might have changed her tune.
So if you're a first-time crafter eager for a salacious and vagina-themed project, or you're on the lookout for a fun gift for the vagina loving weirdo in your life, here are some of the best vagina cross stitch patterns and projects Etsy has to offer.
Craft on, perverts.
1. It's the highest compliment, really
Nothing says true love like quite like a ruined vagina.
2. Cute and classy
Because just one cunt is never enough.
3. Motherhood
Ah, the joys of spawning.
4. I dare you
This is as badass as they come.
5. Knock knock
The glitter does make the notion of parting those curtain very compelling.
6. Damn straight it is
Own your body, embrace your body.
7. IUD Me, bro!
I've never seen a more feminist piece of craft work. Slow. clap.
8. Flashing lights
Lady parts are SO hot right now.
9. Old Skool
The best part about this one is all of it.
10. YAS
So that's my next tattoo sorted, excellent.
11. Romance
Because love is unicorns and total cunt destruction.
12. Greek life
It is the only form of pride that is not ruinous.
13. That's what he said
Please keep your birds out of my vaginas, plz. kthankbai.
14. Tools of the trade
You might not love your period, but your period loooooooves you.
15. GET IT?
If you don't appreciate puns or a smiling uterus you need to rethink your life.
16. Not all vanillas are created equal
The c word and ice cream: the ultimate sweet and sour.
17. Let's get clinical
What's great about this one is the education value. Kids ask about birds and the bees, you point to the wall. Once you get a matching dick one, that is.
18. Preach, Betty White
Screw balls. Both literally and figuratively.
19. Open wide
All homage do we pay thee, hole.
Previous
Next
BEGIN