Photo: WeHeartIt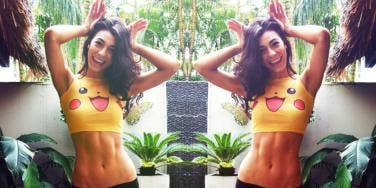 Why does everyone start in the bathroom?
Over the weekend the world officially turned upside down when Nintendo released their new Pokemon Go smartphone app — a game that places virtual Pokemon characters into real life, motivating the players get out of their sunken-in couches and head to the great outdoors to catch 'em all.
And though there are tons of worries about the lengths people will go to find and catch these (fake) characters, admittedly plenty of the population — including senior citizens, parents and 8-year-olds — have already downloaded the game to see what all the hype is about.
With the oodles of people suddenly walking around with their faces buried into their phones (OK, maybe that's nothing new), some have started posting their adventures on social media. And they are ridiculously hilarious.
Here are 20 of our favorite places people have found their Pokemon characters, ranging from funny to CRAZY dangerous.
---
Kayla Cavanagh is an editor and writer living in Central Florida. When she's not feverishly obsessing over spreadsheets and grammar, she enjoys drinking margaritas by the pool, watching movies with her husband, Matt, and dancing with her kids in the living room.
Apparently Oddish was ready for a night on the town.​
Machop was caught working that night. He was up next.
Pidgotto was in no mood for playing today.
Magmar was performing for the halftime show.
Jiggly Puff sang the Star Spangled Banner beautifully.
Aerodactyl totally interrupted the match.
Mankey was apparently tired from traveling all day.
Umm... I don't think Krabby realized that HE is what's for lunch.
Poor Magikarp already kicked the bucket.
Exeggcute looked pretty pissed at this guy for wanting to eat them.
This player caught poor Eevee getting into a tragic accident.
Squirtle decided to organize a turtle power gathering.
Magikarp was having a horrible day.
This guy risked life and limb to catch Squirtle before the train.
Thankfully photoshop saved the day and everyone was safe.
Of COURSE Pikachu got to do a ride along with the NYPD.
Apparently Jigglypuff is really into babysitting.
Poor Exeggcute were about to become breakfast.
Pidgy looks pretty pissed that it's stuck in the stall with this guy
This player caught Weedle in a ... ummm ... compromising situation.
Previous
Next
BEGIN