Photo: tumblr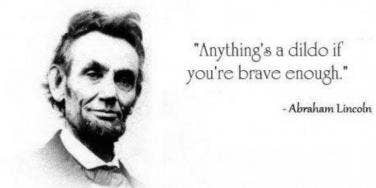 The ultimate guide to the hipster dildo movement your never wanted.
It used to be the case that if you wanted to procure a dildo, your options were fairly limited. Sex toys were left to languish in the dark.
Our foremothers were forced to make do with sub par phallic shaped fare, and while they didn't exactly suffer, they weren't over the moon with what the dildo had to offer them.
In many ways, the evolution of the dildo is like the evolution of the car (except for there are no hybrid sex toys I can think of).
At first it was built solely for function, a bulky contraption that loudly and slowly got us from point A to point O.
But over time, aestheticism began to matter. It was no longer good enough for the dildo to simply get us where we were going, it had to look damn good doing it.
Like your car, your dildo had to represent who you are a person. Sure it spends most of its time jammed up in a dark wet hole, but when it's out you want to look at it and see something that doesn't look entirely out of place with the rest of your style sensibility.
As a geek, it used to be difficult for me to find a dildo that conveyed the message of my weirdness as loudly as a novelty t-shirt.
But thanks to the advent of stores like Etsy, I can shop my heart out for the hipster, geeky, artisanal dildo of my dreams, and you can too. Here's just a taste of what Etsy's got to offer.
More like Iron Dong, amiright?
I can't help but think Tony Stark would be thrilled to know that the masses are driving this iron cock into themselves until they reach climax. Join the unlicensed Marvel universe here.
By the power of the moon I punish you!
I am pretty sure if I even began googling "Sailor Moon but with dildos" I would come upon such a vasty array of fan drawings that my heart and soul would never recover. So let's just settle for this Sailor Moon themed dildo and call it a day, shall we?
Sleek
The wood says sustainability, the handle says user friendly, the act of buying one means permanent entry to the cult of the hipster.
Crafty
Every looked at your dildo and been like, "he looks cold"? Well you're in luck. Please to enjoy these handmade dildo crochet sheaths.
Greedo shot first
If Han had carried a dildo gun around in Star Wars things would've gone a lot different. Like, so much.
Bigger on the inside
Gotta love Doctor Who. You know which doctor is my favorite? The one who turned his sonic screwdriver into a dildo for her pleasure.
Winter is cumming
Cum with ease knowing that while Jon Snow knows nothing, you know it all, at least when it comes to GoT inspired sex toys.
Channel the earth mother
Nothing says hipster dildo like these finely crafted crystals meant to be inserted into your vag. I'm surprised they don't sell them at Urban Outfitters.
The force is strong with this one
This would be great for couples play, but I worry about the light saber noises my boyfriend would undoubtedly make.
The Walking Dildo
Zombies are so hot right now. So hot that someone thought it was a good idea to make a zombie dildo. I die. And come back. And eat your brain.
Perfect for picnics
Also doubles as a corn sculpture. When people ask you why it's all slippery you can just say that it's covered in butter.
You have the power
Sit on this and bellow "I have the poooooower" to conjure feelings of deep nostalgia and hopefully, some g-spot stimulation.
More like "Root"
If you liked Guardians of the Galaxy you'll love getting you solo bone on with this ode to Groot. Be sure to loudly scream your own name when you cum.
Be wary of splinters
"And then there was the time I put this artisanal wood dildo up my snatch and got the worst splinter imaginable. It was so bad I am now pregnant with a tree."
The cum is strong with this one
At first I was horrified by this Yoda dildo, then I saw it was called the Choda and I have never been more delighted.
DESTROYER OF WORLDS
Nothing says hipster like a devotion to Cthulu, the destroyer of worlds. As long as he doesn't also destroy vagina, I support this choice.
Previous
Next
BEGIN