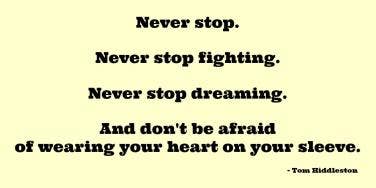 Loki is surprisingly well spoken (and hot).
Why did Taylor Swift "allegedly" break-up with Calvin Harris to hook-up with the much-swooned-over British actor Tom Hiddleston? How can a few mere inspirational quotes explain their attraction?
We'll talk about the quotes in a minute. Let's start with the more surface, obvious stuff. For starters, Tom Hiddleston is appallingly handsome. Like so handsome that it makes other men angry.
Hiddleston is considered to be the front-runner to become the next James Bond after Daniel Craig. He became a pop culture phenom thanks to his epic performance as Loki in the Marvel movies. He's also a solid singer — with a fondness for country music (which Tay-Tay should appreciate) — as seen in his performance as Hank Williams in the 2015 film I Saw the Light.
And did we mention how handsome he is?
Not that Calvin Harris isn't pretty, but his rumored angry break-up anthem about Taylor and Tom disappointingly turned out to be much ado about nothing. Despite TMZ reports — which note that the song opens with the phrase "Low key" (a.k.a. "Loki") — Harris' camp claim that the song was recorded MONTHS ago, so it couldn't be about Tay-Tom.
So, if he's not even good angry-ex break-up song fodder, why exactly did Taylor pick Tom Hiddleston to be her new beau?
Here's where the quotes come in…
Perhaps Tay-Tay picked Tom because… he has consistently proven himself to be smart, well-spoken, and awesome. (The handsomeness does help too.) Throughout his varied career and countless interviews, Hiddleston has come across as humble, self-deprecating, and surprisingly profound. His comments can vary from the inspirational to the romantic to the downright hysterical.
Not only is he a lithe, cut British sex-bomb of Cumberbatchian proportions, but he also seems like a really, really cool guy. Which, c'mon, how can Taylor resist?
If you're still not convinced that they're a real-deal couple (looking at you, Ryan Reynolds' face), here are 11 quotes from Tom Hiddleston that make a solid case for why Taylor Swift (or anyone else) might fall head-over-heads for the guy.
• • • •
If you're searching for the best quotes and memes to share with the people you love (or just want to feel inspired yourself) ... look no further! From the sweetest love quotes, inspirational sayings, and hilarious relationship truths, we've got you covered.
This is adorable.
"I was informed yesterday that there's a Twitter account for my laugh. Very hard to get used to things like that. Pretty amazing."
(Source)
Imagine him making the Tay-Tay heart hands as he says this.
"Never stop. Never stop fighting. Never stop dreaming. And don't be afraid of wearing your heart on your sleeve."
(Source)
Everyone loves ice cream.
"I feel very proud that I've grown up as part of a generation that simply doesn't make a distinction between gay and straight really… It's like, 'Oh. So you like strawberry ice cream and you like vanilla ice cream.' It's all good. It's all ice cream."
(Source)
Well, of course, Loki would say that.
"I don't think anyone, until their soul leaves their body, is past the point of no return."
(Source)
What a good boy.
"I believe in the strength and intelligence and sensitivity of women. My mother, my sisters are strong. My mum is a strong woman and I love her for it."
(Source)
Maybe "Bad Blood" inspired him too.
"Music, without question, is my biggest inspiration. If I could only make people feel what I feel from this music then I'll have done something worthwhile."
(Source)
Because the haters gonna hate, hate, hate, hate, hate…
"Haters never win. I just think that's true about life, because negative energy always costs in the end."
(Source)
Hiddleston likes to seize the day.
"Here's what I'll say. I believe that nothing is certain and fixed, so you have to make the best efforts to treasure things, and not fall into the trap of letting things be destroyed. Because they can be."
(Source)
Nice people rock.
"I think if I had anything that I would like to leave behind as sort of a message, I'd want people to understand the primacy of kindness. The power of it to change the world."
(Source)
It also helps when they look like Taylor Swift.
"I guess the sexiest thing in the world is when I meet someone and they seem like they are themselves. You know, be yourself."
(Source)
Truer words…
"There are no men like me."
(In his defense, this WAS said in-character as Loki, so...)
(Source)
Previous
Next
BEGIN