Photo: WeHeartIt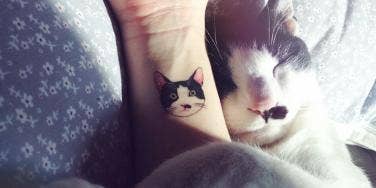 Because CATS = LIFE. (duh)
So tattoos are awesome. Let's just get that out of the way.
But unfortunately, I'm one of those girls who has an entire dream board of gorgeous tattoos that I've built up over years and years of research, and a list of my top tattoo artists (who — by the way — live basically on the other side of the world from me) ... but I have literally ZERO tattoos. And probably no plans to get any in the near future.
Oh come on! I know there HAS a million of people out there just like me! I want one so bad, but the fear of getting something inked into my skin PERMANENTLY is honestly a bit nauseating.
But one thing I've always known, is that my FIRST tattoo — no matter how many I plan on actually getting — is going to be a cat. Considering I have five cats (yes, five) it makes total sense.
Seriously though, who SHOULDN'T get a cat tattoo? They are classy, gorgeous, can be colorful or geometric — literally the PERFECT thing you could put on your body to help you feel confident, sexy and in CHARGE. (OK, maybe it's just a crazy cat lady talking here.)
Either way, take a look at 15 of my absolute FAVORITE picks to get your own inspiration. Because the world deserves beautiful cat tattoos.
A little mix of realism with geometric shapes. GORG.
A messy-but-not sketch of your TRUE love.
A stunning cartoon-esque watercolor dedication to your best friend.
You could go for simple and elegant (in your cat's favorite pose!)
You could make it look like you doodled it on your finger.
Watercolor sketches of two BFFs.
Cartoon version with his favorite toy!
If you have multiple cats, keep it simple but also make them unique.
Go classic and bold with a heartfelt dedication.
Go for a more geometric look with bold lines and lots of personality
Or just go for a miniature version (don't forget the photo!)
Capture her curiosity so you'll always remember.
Self explanatory. And PERFECT.
Or go for a more abstract look with lines.
Or just go for the SPITTING IMAGE. WOAH.
Previous
Next
BEGIN