Photo: WeHeartIt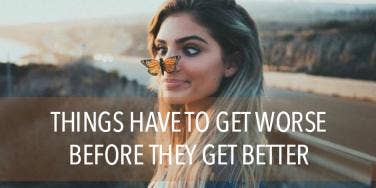 We've got your back.
So you're having a bad day. A bad week maybe? Feeling sad or depressed? Well take comfort in knowing you're not the only one.
Everyone has their fair share of good and bad days, it's how you turn them around that shows the kind of person you are. Life sucks, but it can be really great too.
For every bad day, there's even better days ahead — you just have to be patient and not let your obstacles get you down. It's not easy to look at things with a positive outlook, especially if bad things seem to keep happening. But guess what?
You're going to be ok.
You will get through this. Nobody is perfect, so remind yourself it's OK not to be perfect. You were built to handle these things. You can tackle anything you set your mind too. Don't continue to beat yourself up.
Surround yourself with good energy, and all the stress of your bad day will melt away. Grab your girlfriends and a big bottle of wine and forget about it all. Or have some alone time with some popcorn and a movie. Distract yourself with things you know will make you feel better.
The more you force yourself to ignore what you could've done differently, the better you'll start to realize that it doesn't matter, and life goes on. Everyone screws up sometimes — even you. But you're human, and your allowed to make mistakes.
To help you move on, here are 15 quotes that will motivate you to get up, get moving and move past your bad days.
If you're searching for the best quotes and memes to share with the people you love (or just want to feel inspired yourself) ... look no further! From the sweetest love quotes, inspirational sayings, and hilarious relationship truths, we've got you covered.
The problem lies in your expectations.
"What screws us up most in life is the picture in our head of how it's 'supposed' to be." — Unknown
For every valley there will be a peak. Just wait.
"Things have to get worse before they get better." — Unknown
Don't get discouraged.
"Something beautiful is on the horizon." — Unknown
You've got this.
"I've got to pick myself up, dust myself off, and start all over again." — Peter Tosh
YOU make a difference in the world.
"By being yourself, you put something wonderful in the world that was not there before." — Edwin Elliott
This is NOT the end of the road.
"Just when the caterpillar thought the world was over, it became a butterfly." — Unknown
It's time to make a decision.
"When something bad happens, you have three choices. You can either let it define you, let it destroy you, or you can let it strengthen you." — Unknown
You can do this. Hands down.
"You are braver than you believe, stronger than you seem and smarter than you think." — Christopher Robin
Take a moment to get things straight in your mind.
"Sometimes you need to step outside, get some air, and remind yourself of who you are and who you want to be." — Unknown
"Life goes by fast. Calm down. It's all funny." (Joan Rivers)
"Life isn't as serious as the mind makes it out to be." — Eckhart Tolle
Look at the bright side.
"Every day may not be good, but there is something good in every day." — Unknown
Dust yourself off and get moving again.
"Everyone falls down. Getting back up is how you learn to walk." — Walt Disney
You've got this.
"Keep your head up. You are much better than you believe. You can do this. I promise." — Unknown
Look at the positive things around you.
"When some things go wrong, take a moment to be thankful for the many more things that are still going right." — Unknown
Previous
Next
BEGIN