Photo: Turner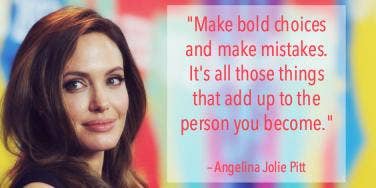 Is there anything she CAN'T do?!
Daughter of actor Jon Voight, Angelina Jolie has never been a stranger to the media. After winning a Golden Globe for the role of Best Supporting Actress in the 1998 film George Wallace, Jolie proved to the world that she could successfully make it on her own.
Being a Golden Globe winner at the age of 23 wasn't the only thing she became known for. People soon became fascinated with her outspoken honesty on topics like drugs, sex, and her interest in sadomasochism.
Today there's no doubt that Angelina Jolie is one of the most talented actresses in Hollywood. Over the years she has starred in dramas such as Girl, Interrupted, Changeling, and The Tourist.
Audiences have long been captivated by her beauty. Both People and Vanity Fair as well as other various media outlets have awarded her the title of the world's most beautiful woman. The obsession doesn't stop there though. Since marrying actor Brad Pitt in 2014, her private life has intrigued people all around the world.
In addition to being an award winning actress, she is also a humanitarian, director, and mother of six beautiful children.
From producing and directing, to starting campaigns against sexual violence in military conflict zones, and being a crusader for conservation, education and women's rights, it's hard to imagine that this superwoman has anything left to give. But she does. Powerful and inspirational words of wisdom.
Here are 12 quotes that prove Angelina Jolie is an inspiration to us all.
If you're searching for the best quotes and memes to share with the people you love (or just want to feel inspired yourself) ... look no further! From the sweetest love quotes, inspirational sayings, and hilarious relationship truths, we've got you covered.
On what matter most in life-YOU.
"Figure out who you are separate from your family and the man or woman you're in a relationship with. Find out who you are in this world and what you need to feel good alone. I think that's the most important thing in life. Find a sense of self, because with that, you can do anything else." — Angelina Jolie
On how other people see you.
"Everyday we choose who we are by how we define ourselves." — Angelina Jolie
On putting an end to sexual violence crimes.
"We must must send a message around the world that there is no disgrace is being a survivor of sexual violence, that the shame is on the aggressor." — Angelina Jolie
On why it needs to hurt sometimes.
"Without pain, there would be no suffering, without suffering we would never learn from our mistakes." — Angelina Jolie
On how she feels about certain compliments.
"I don't see myself as being beautiful, because I can see a lot of flaws. People have really odd opinions. They tell me I'm skinny, as if that's supposed to make me happy." — Angelina Jolie
On developing your character.
"Make bold choices and make mistakes. It's all those things that add up to the person you become." — Angelina Jolie
On the role men need to take in women's lives.
"There is no greater pillar of stability than a strong, free and educated woman, and there is no more inspiring role model than a man who respects and cherishes women and champions their leadership." — Angelina Jolie
On the importance of using your voice.
"Do not go silent. Raise your voices. Use your influence to inspire the next generation of men to honor women." — Angelina Jolie
On how to deal with horrible people.
"What the worst people in the world fear most is justice." — Angelina Jolie
On what women REALLY need from men.
"We need policies for long-term security that are designed by women, focused on women, executed by women-not at the expense of men, or instead of men, but alongside and with men." — Angelina Jolie
On being true to yourself.
"Different is good. So don't fit in, don't stand still, don't ever try to be less than what you are." — Angelina Jolie
On finding what works best for YOU.
"Some people say you are going the wrong way, when it's simply a way of your own." — Angelina Jolie
Previous
Next
BEGIN