Photo: USAToday, Twitter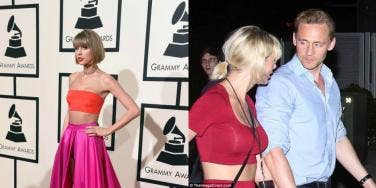 Did she or didn't she?
There's been much speculation behind whether or not singer and songwriter Taylor Swift has recently made some upgrades in the cleavage department. After getting photographed near the water in her Rhode Island home over the weekend's holiday festivities, many people online have all drawn the same conclusion.
The Forever 21 red bikini she wore while splashing around in the water was snugly fitted and left little room to question whether or not the tall singer's previously slim form has gone under the knife.
Despite the sudden and remarkable change in her curves, people from Taylor Swift's camp and those close to her are absolutely denying that she has had any body-altering surgery. According to Page Six, a source close to her said that those stories are absolutely false.
This isn't the first time that there's been rumor of Taylor undergoing surgery. Even as recently as June, celebrity and gossip website Radar Online posted an image and quote from Dr. Anthony Youn, who suggested that the singer "...may have had a buttock enhancement, but as thin as she is, the only way this could be possible is if she had solid silicone buttock implants placed."
Rumors continue to swirl, but there's no denying that people are noticing the difference and comparing it in side by side photos that speak their own brand of truth. After seeing the photos, plastic surgeon Dr. Matthew Schulman suggested that the change could be as simple as some new lingerie, instead of an extreme measure like plastic surgery.
"[Taylor] has always had a very petite chest, but recent photos seem to show a fuller chest and more cleavage. We know that Taylor has a friendship with many Victoria's Secret models, so [it's] possible that she is rocking a new bra."
While hesitant to confirm his medical opinion, he did still agree that "It is more likely that she has had some surgical help."
So either way, it looks like the "New Romantics" singer may have some new plastics in her life. We wonder what beau Tom Hiddleston thinks of her changes? Check out these side by side comparisons and decide for yourself.
1. There's no missing that!
The difference is quite apparent.
2. It can't just be a change of outfit, either...
When there's a side by side comparison, it's pretty obvious to see...
Photo: FamousPlasticSurgery
3. Bras may be incredible, but THAT is practically magic.
Her naturally slim form didn't allow her to be that curvaceous.
4. That's hard to argue.
There's quite a large difference in just a few years.
5. Victoria is hiding two GIANT secrets!
Is it really possible to achieve this with a bra?
Photo: plasticsurgerygirl
6. It can't just be the stripes, can it?
Rumors swirled around this photo after people claimed that she got both a breast job and a nose job.
7. Not very flashy, but revealing all the same.
Photography doesn't really leave room for doubt.
8. That top is not made to boost your cup size.
In the most recent photograph taken over the July 4th weekend, you can tell something changed. Sorry, but swimsuits aren't made to lift your bust an entire cupsize.
9. There's no way those are the same boobs.
Taylor's outfit during her outing with Tom Hiddleston to Selena Gomez's concert left little to the imagination.
10. Things are looking a bit... different here.
In this photo posted by TMZ in April 2016, you can tell that Taylor's derierre had been lifted, but her chest was still fairly on the small side, which suggests that breast implants were only one of at least two surgeries she's had this year alone.
Previous
Next
BEGIN