Photo: weheartit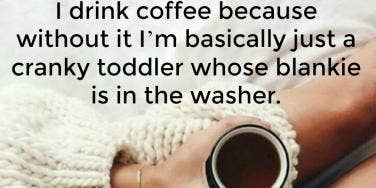 Coffee, how I love thee ...
My name is Arianna, and I have been a willing, loving slave to the whims of coffee for the past 21 years.
It started innocently enough.
I moved to Philadelphia for a job immediately upon graduating college. It was not only my first year living outside of always sunny Southern California, but the year I first saw snow fall. And it wasn't just that I danced merrily through a few light flurries — though I did — but I learned quickly how to manage myself during a real, live blizzard.
Throughout that freezing cold winter I worked in an ancient Roman tower.
OK, it was actually an ivy-covered red brick building built in the late 19th Century. For an LA native, that's basically the same thing.
The only way I could manage to keep myself both warm and awake during those long, grueling days was by making regular visits to the communal Mr. Coffee coffee-maker in the area just outside of my office door.
It wasn't exactly Starbucks, but it did the job so that I could do my mine.
The next year I moved to NYC for graduate school, which means the minute my feet hit the streets of Broadway (Broadway and 116th Street to be more precise), I moved into debt.
Toward the end of every semester my bank account would spread pitifully thin, thanks to my love of good diners and a few too many trips to Bergdorf Goodman fine book stores.
When I reached those weeks during which I had to most carefully count my pennies before the next student loan check would arrive, the one thing I knew I simply could not go without was my multiple coffees per day caffeine habit.
Luckily NYC is the happiest place on Earth, and coffee could be gotten for insanely low prices from those blessed men in their coffee carts on nearly every block.
Coffee not only makes me suffer from withdrawal when I don't get it, but it makes me happy.
Like all of the most satisfying relationships in life are supposed to, coffee makes me my very best self. It perks me up, kicks my brain into motion, and warms my heart on the coldest (and hottest) of days.
If you haven't a clue what I am talking about, then I have no idea why you have chosen to read this far. However, I am willing to bet a pretty penny that most of you out there know just what I mean when I break down to my most vulnerable and announce to the entire universe and it's inhabitants ...
I
COFFEE!!
And so, I present you with this collection of 18 quotes that capture the true essence of true love for that most glorious of brown liquids — coffee.
If you're searching for the best quotes and memes to share with the people you love (or just want to feel inspired yourself) ... look no further! From the sweetest love quotes, inspirational sayings, and hilarious relationship truths, we've got you covered.
"Listen, before I had my coffee I didn't know I was going to be so freaking awesome either."
— Unknown
"In dog coffees, I've still only had one."
— Unknown
"Coffee is basically a hug for your brain."
— Unknown
"It's that time of year when certain people say: "It's WAY too hot for coffee!" These people do not understand coffee and must never be trusted."
"If you ever hear me order a decaf, know that I have been kidnapped and I am trying to signal you."
— Unknown
"A yawn is pretty much just a silent scream for coffee."
— Unknown
Photo: JuliaSmithCeramics
"Water is the most essential element of life. Without it, you simply cannot make coffee."
— Unknown
"Coffee doesn't ask silly questions. Coffee simply understands."
— Unknown
All I really need is 3 coffees and like 9 million dollars."
— Unknown
"Shh ... don't speak. Just enjoy the blissful sound of coffee brewing."
"I put Red Bull in my coffee this morning instead of water. I can now see noises."
— Unknown
"A poem for my morning: Coffee, coffee, coffee. Coffee, coffee, coffee. Everyone shut up the EFF up. Coffee ... coffee ... coffee."
— Unknown
"After I drink my coffee, I like to show the empty mug to the IT guy tell him I've successfully installed Java. He hates me."
— Unknown
"You brought me coffee without my having to ask? I love you."
— Unknown
"'Despresso.' The feeling you get when you wake up and realize you've run out of coffee."
— Unknown
"I like my coffee exactly how I like myself: dark, slightly bitter, and WAY too hot for you."
— Unknown
"I drink coffee because without it I'm basically just a cranky toddler whose blankie is in the washer."
— Unknown
"What's my birthstone? A coffee bean."
— Unknown
Previous
Next
BEGIN