Photo: weheartit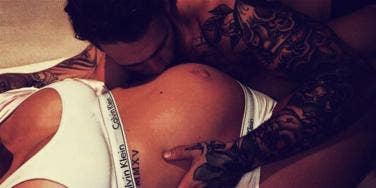 Don't let your belly hold you back!
Pregnant women tend to get revved up and want to get it on — often (thanks, fluctuating hormones!) Here are the best sex positions to try during pregnancy to help you scratch that itch.
1. Be The Little Spoon
This may be the most comfortable of all positions as it allows pregnant women to get it on while resting. You can even take a nap after you orgasm. You're already in position, so why not?
To be the little spoon during sex, lie on your side in front of your partner while he lies behind you. This position allows for easy access and shallow penetration so you don't feel as much pressure during sex.
2. Ride 'Em
Climbing on top of your lover allows you to take control. You choose how deep you want him to go and how fast or slow, and there's no pressure on your growing belly. Plus, you don't have to waddle over to the bedroom when the mood strikes. You can ride 'em anywhere! Watching TV on your sofa and get turned on all of a sudden? No problem! Just jump his bones — literally.
3. A Different Kind Of Missionary
Missionary is pretty much impossible while pregnant. You already have all this belly weight, the last thing you need is your man's body on top of you! You can, however, modify missionary by lying on your back on the edge of the bed with your feet dangling on the edge. Your lover then climbs on top of you, but he won't be resting all his weight on you.
However, keep in mind that this position won't work when you are further along. Doctors recommend not lying on your back after your second trimester as doing so decreases the blood supply to a baby in utero.
4. Reverse Cowgirl
In the reverse cowgirl position, your man will lie on his back as you ride him with your back facing him. Just like riding him face forward, you are in control of your movements, which is essential when pregnant.
5. Get It From Behind
If you like doggy style, you can still get it from behind when pregnant. You won't be able to get on all fours but you can definitely kneel in front of a couch. He'll then penetrate from behind just like he did before baby.
Hold on to the sofa with your arms for support, that way you can keep your belly off the couch while he rams his penis inside of you.
6. Scissors
To scissor, both you and your partner lie on your side on opposite directions. Raise your leg so his penis can slide into you (you're basically intercrossing your legs and going at it). Yes, you should look like a pair of scissors! Then, thrust toward each other.
There isn't as much movement, so it's easy peasy. Plus, he'll be rubbing your clitoris with his pelvic bone — double the pleasure!
7. Pull Up A Chair
Using furniture is essential when having sex while pregnant as it serves as support, and a chair is no different. Have your partner sit while you straddle him. This position is similar to the cowgirl only you are switching it up by riding him on a chair. Whatever works to keep sex spicy while you're prego, right?
Previous
Next
BEGIN