Photo: WeHeartIt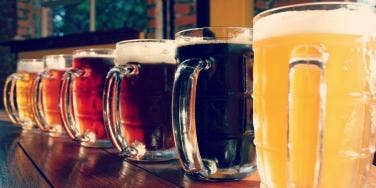 These brews are just as unique as you are!
If you're one of the many people who like to kick back and enjoy a cold brew with friends after a long day, you're in luck. We are living in the Golden Age of beer, ladies and gentlemen.
There's just no other way to put it. Over the past few years, craft breweries, defined as small, independent, and traditional, have exploded. What once accounted for just 284 companies in the beer industry in 1990 has now become somewhat of a national obsession. In fact, according to the Brewer's Association, craft breweries made up a staggering 98 percent of all the breweries operation in 2013 — 2,768 in the United States alone. What a time to be alive, am I right?
These independent companies are doing things their own way, placing the focus on quality over quantity, and people have really taken a liking to them. While some chalk craft beer's growing success up to "Millennial elitism," what it really comes down to is our craving for variety and uniqueness — something "Big Beer" is sorely lacking but craft breweries have in spades.
And, incidentally, that's where craft beer and the Zodiac have something very important in common: they both rely on distinct characteristics to set them apart from each other. Just about every beer that craft breweries create has a very specific and detailed list of its defining qualities, and many of these qualities are reminiscent of the specific traits and personality types that the different astrological signs have as well.
So next time you're looking for the right libation to help you take a load off and wondering which of the thousands of craft options to choose, keep these one-of-a-kind brews in mind.

Read on to find out which craft beer is the PERFECT fit for you and your Zodiac sign!
Aries (March 21 - April 19)
Founder's All Day IPA: IPAs are all the rage right now on the craft brew scene. A brew this bold and trendy is an obvious match for an Aries.
Taurus (April 20 - May 20)
Samuel Smith's Oatmeal Stout: For a home-body like the Taurus, this creamy, comforting brew is perfect.
Gemini (May 21 - June 20)
Brown ales are loved by just about every beer drinker, and that versatility makes them ideal for Geminis. But this brown ale in particular, with its addition of coconut, truly gives it the clever edge that Gemini's are known for.
Cancer (June 21 - July 22)
Traveler Beer Co.'s Curious Traveler: Someone as loving as a Cancer deserves a beer that's as sweet as they are, like this bright Lemon Shandy.
Leo (July 23 - August 22)
Dogfish Head's Festina Lente: Leos are extremely ambitious and don't shy away from a challenge. This makes the love-it-or-hate-it Sour beers a good match for them. It's a flavor that seems like it shouldn't work, but totally does anyway.
Virgo (August 23 - September 22)
Sierra Nevada's Summerfest Lager: Virgos are a modest and analytical bunch, so they'll want a drink that gets straight to the point without too much fuss. This simple, but unique Lager is just the drink for them.
Libra (September 23 - October 22)
Smuttynose Robust Porter: For Libras, who are all about balance, Porters are perfect. This type of brew tows the line between malty sweetness and bitter hoppiness, but never has too much of either.
Scorpio (October 23 - November 21)
Flying Dog's Double Dog: Powerful and passionate Scorpios will appreciate this extra-bold, high-alcohol Double IPA.
Sagittarius (November 22 - December 21)
Bell's Oberon: This Wheat Ale with a hint of citrus keeps things light and fun, which complements a Sagittarius's optimistic and good-humored personality.
Capricorn (December 22 - January 19)
Einstock's White Ale: Something classy and traditional like this imported Icelandic white ale is just right for prim and proper Capricorns.
Aquarius (January 20 - February 18)
Rogue's Bacon Maple Ale: Those born under the Aquarius sign are never afraid to try new things, no matter how crazy. This Bacon Maple Ale inspired by Voodoo Doughnuts is just as eclectic and unexpected as they are.
Pisces (February 19 - March 20)
Oak Creek HefeWeizen: A HefeWeizen's sweeter and mildly fruity taste suits the kind and sensitive Pisces.
Previous
Next
BEGIN