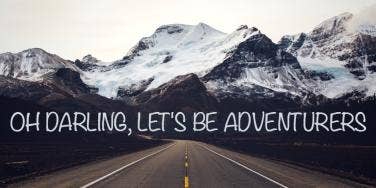 The cure for your ever-growing wanderlust is waiting right outside your door.
I don't know about you, but come summer ever year I get a WICKED case of wanderlust. You know — when you day dream about road trips and sand in between your toes and campfires with your favorite friends? Yeah. THAT.
So many of us dream and dream and dream but never actually DO anything about it. Some of us plan vacations — and sure, when you're THERE, feeling your vacation and smelling the air and feeling the sun, it's wonderful.
But what about the 350 days of work and dreaming before it? Trust me, I know. I've been there (and I'm still there at times).
But last year I made the decision to just get up and go. No excuses. I got up, got in my little Prius with my husband, dropped my kids off at their grandma's for two weeks and put the pedal to the metal. We drove 2500 miles in 3 days across the country.
I caught "the bug" and it's never left since.
It's something you'll never know you're missing until you go out there and get it yourself.
Did you know that the stars you see in the sky are probably not even a TENTH of what you can REALLY see? I found that out when I pulled the car over on the side of the road at 4AM in the middle of the desert, got out and looked up. THAT image I will seek out as many times I can for the rest of my life.
It makes you realize how small you really, really are.
So enough dreaming. Do what you NEED to do. Take some time off. Bring the kids. Go for a weekend drive to no where. If you don't have a car, take a bus. Walk to somewhere you've never gone. I don't care.
You really DO have the time. So just DO it.
You won't regret it. The only thing you MAY regret is catching "the bug" ... because after your first time, you'll be unstoppable. But isn't that the whole point?
Happy travels!
If you're searching for the best quotes and memes to share with the people you love (or just want to feel inspired yourself) ... look no further! From the sweetest love quotes, inspirational sayings, and hilarious relationship truths, we've got you covered.
2.
"I love places that make you realize how tiny you and your problems are" — Unknown
3.
"I have an insane calling to be where I'm not." — Unknown
4.
"I was never going to go if I waited for someone to come with me." — Laura (Unknown)
5.
"This is the part where you find out who you are." — Unknown
6.
"Quit your job. Buy a ticket. Get a tan. Fall in love. Never return." — Unknown
7.
"Oh darling, let's be adventurers." — Unknown
8.
"Don't quit your day dream." — Unknown
9.
"We travel not to escape life, but so life doesn't escape us." — Unknown
10.
"While we are postponing, life speeds by." — Seneca
11.
"I'm going to see the world." — Unknown
12.
"You say I dream too big. I say you think too small." — Unknown
13.
"Are you really happy or just really comfortable?" — Unknown
15.
"Oh baby, it's a wild world." — Unknown
16.
"Live beautifully. Dream passionately. Love completely." — Unknown
17.
"What consumes your mind controls your life." — Unknown
18.
"Travel brings power and love back to your life." — Unknown
19.
"Enjoy every moment." — Unknown
20.
"There's no way I was born to just pay bills and die." — Unknown
21.
"Adventure awaits." — Unknown
Previous
Next
BEGIN