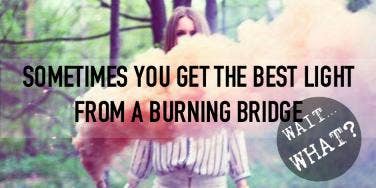 Do NOT follow this advice!
Why is that when we fall in love and get into new relationships, people give us unsolicited advice about how love should be? Often times they are coming from a good place, but not ALL advice is SOUND advice — and that can become a BIG problem when it comes to maintaining a healthy, happy relationship.
If someone you trust gives you faulty advice — or you go online to look for some of your own — and you're not completely comfortable with it, then it'll tear you apart inside (and probably lead you into some uncharted territory). Eventually it will tear apart your relationship too, which is — most certainly — NOT what you want to happen.
Also, some of the advice out there is surprisingly disturbing, encouraging you to give ALL of yourself to a relationship, to depend WAY too much on the other person, or even rely on THEM for your own happiness and self-esteem. Ummm ... NO. NOT OK.
So be weary of well-meaning advice or the things you hear or see from other people (and especially online). Only YOU can define what works and doesn't work in your relationship.
And make sure your relationships are filled with happiness, healthy habits and encouragement on both sides. Because in the end, isn't the goal to BE with this person for the rest of your life? That's a long time to be unhappy.
BE CAREFUL and make sure you THINK before following these (unhealthy) tips on love.
If you're searching for the best quotes and memes to share with the people you love (or just want to feel inspired yourself) ... look no further! From the sweetest love quotes, inspirational sayings, and hilarious relationship truths, we've got you covered.
Because love and train wrecks should be compared to each other?
It's true that they make front page news, but the thing about train wrecks is they're disasters and someone always gets hurt. If your relationship can be described as one, RUN. Don't let the negatives characterize your whole relationship.
That's NOT how it's supposed to work.
If you feel like you have to do this to get their attention or for them to declare their love for you, then you're not in a healthy relationship. You shouldn't feel unsure or confused about whether they love you or not — that should ALWAYS be clear.
Trust your gut.
We're told to follow our hearts when it comes to love, but this isn't always the right thing to do. Love can blind us to someone's serious faults and this can lead to heartbreak later on.
So follow your heart, but don't let your feelings cloud your judgment.
It's important to know when enough is ENOUGH.
Yes, relationships take work. Being committed to each other is just one part of the equation to a strong, healthy relationship — but sometimes the best thing for you is knowing when to call it quits.
In a true relationship, two people acknowledge and accept each other's faults. From there, it's time to decide whether this is going to work for YOU for the rest of your life. Suffering shouldn't last a life-time.
So what needs to be destroyed in a relationship?
Destruction is a form of violence. Destruction in relationships is bad. Period. Nothing good can from that which has been destroyed.
Example: If your partner cheats on you and you find out, they have lost your trust. And if you decide to forgive them, nothing will ever be the same. You'll never be able to really just forgive and forget what they've done.
Instead of destroying a good thing, make sure you can REALLY trust each other for the LONG haul.
Find the map and get out.
If you have dedicated and invested yourself SO much to a relationship that you've lost your own identity in the process, then you need to step back and find yourself again. There's a fine line between giving your all to a relationship and just giving up yourself.
Make sure you know the difference.
That's not how that works...
It's not some switch that can be easily turned off. Even if your partner is good about telling you how much they appreciate and value you in their life, sometimes insecurities just linger. Don't be afraid to voice these or ask for help. A relationship is a partnership, after all.
What's wrong with basing your relationship on something HEALTHIER?
If you have to do that to really appreciate them, then you don't deserve them. You should always love and appreciate your partner — no matter what. Both you and your partner are entitled to that.
It's not hard to thank them or show them you love them every now and then, without hurting yourself by thinking about the worst.
That's a WHOLE lot of issues.
The first issue of Vogue was published in America in 1892. If you're relationship that has that many issues, then it's time to stop bragging and give up on trying to make things work.
Relationships aren't perfect, but they certainly shouldn't have more downs than ups.
Love FEELS magical but there's no such thing as a fairy tale IRL.
I agree, love can be magical. The problem with comparing your relationship to a fairy tale is that you have unrealistic expectations for it. Suddenly perfect is ALL you focus on.
You want that Disney ending where everyone lives happily ever after, but that's not always the case. Nothing is perfect — not even Prince Charming.
Why did you need to start a fire?
I know we all have that fantasy of striking a match and walking away while there's an explosion behind us, but the only fire in a relationship should be fiery passion. Burning bridges is a BAD habit. It's also just bad karma.
Just do the mature thing and walk away.
Lose this war and go home.
Words associated with war: violence, battle, tragic, conflict and hostility. If loving someone was like going to war, then why would you choose to stay? Wars are battles with no real end.
Don't turn your relationship into a hostile war zone where words are used like weapons.
Aren't collisions damaging? (Answer, YES THEY ARE)
Whoever said this obviously hasn't seen a car crash on the highway. NEWSFLASH, they're horrendous! Most car crashes can be avoided and those in relationships are 100% avoidable.
Collisions should never be intentional. Don't start a relationship off this way!
If it's broke, it may not be worth fixin'.
Throw a plate on the ground. Now try to glue all the pieces back together. Do they all fit? Are all the cracks filled? Nothing broken will ever be the same. The same goes for relationships. They're not always stronger because they've been broken.
Previous
Next
BEGIN