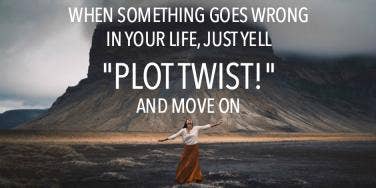 We all need a little help now and then.
PSA. No one's life is perfect. Don't let anyones Instagram, Snapchat or Facebook posts convince you otherwise. No matter how on point or unreal their photos are, there's always more to the story.
Social media is scary that way. You're just scrolling through your Instagram feed thinking that your weekend is going well and all is great in your life, when suddenly you see Becky with the good hair on the beach in Turks and Caicos looking killer in her teeny yellow polka dot bikini. Naturally, you feel jealous.
But when she gets back, you find out she's got a bad case of sun poisoning (you're only human if you feel justice has been served).
A week later your dog dies, you get a promotion at work, your parents sell your childhood home and your boyfriend surprises you with a romantic getaway to Napa for your anniversary.
Is it cheesy to say that life really is like one big roller coaster?
The scariest parts are always at the beginning when something is new. When you're creeping up that first hill, you have butterflies in your stomach because you don't know what's waiting for you on the other side. Then — BAM! — it's down you go. Up and down over and over again until it's over. It all happened so fast you wish you hadn't have closed your eyes for some parts. Life, man.
It's rough, messy and complicated at times. Having an optimistic attitude and some good advice is the only way you'll make it through.
Keep these 18 inspirational quotes in mind next time life gets crazy for you, you might just find a new mantra.
If you're searching for the best quotes and memes to share with the people you love (or just want to feel inspired yourself) ... look no further! From the sweetest love quotes, inspirational sayings, and hilarious relationship truths, we've got you covered.
On times of sadness.
"Happiness can be found in the darkest of times if one only remembers to turn on the light." — Dumbledore
On the importance of getting older.
On how you can change the world- one step at a time.
"We can't help everyone but everyone can help someone." — Ronald Regan
On loving who YOU are.
"You were born an original. Don't die a copy." — John Mason
On why your dreams REALLY aren't coming true.
"Doubt kills more dreams than failure ever will." — Suzy Kassem
On the importance of the past.
"Oh, yes, the past can hurt. But the way I see it you can either run from it or learn from it." — Rafiki
On why you should take chances.
"A ship at harbor is safe, but that's not what ships are for." — John Shedd
On facing the unexpected.
"When something goes wrong in your life, just yell 'plot twist!' And move on." — Unknown
On how you should look at life.
"Life is like a camera. You focus on what's important. Capture the good times. Develop from the negative, and if things don't work out, take another shot." — Unknown
On where you should spend your money.
"You are either in your bed or your shoes so it pays to invest in both." — John Wildsmith
On the attitude you should have every morning.
"Today is like coffee. It will be as good as you make it." — Unknown
On gaining and losing friends.
"Life is like an elevator. On your way up, sometimes you have to stop and let some people off." — Unknown
On ending relationships with people.
"Build a ship before you burn a bridge." — Unknown
On pretending to like something your boyfriend likes.
On feeling old.
"You are never too old to set another goal or to dream another dream." — C.S. Lewis
On making enemies- by accident of course.
"Don't worry about those who talk behind your back, they're behind you for a reason." — Pravinee Hurbungs
On how to be a good person.
On the way things are.
"Like a river flows so surely to the sea, darling so it goes some things are meant to be." — Elvis Presley
Previous
Next
BEGIN