Photo: Pinterest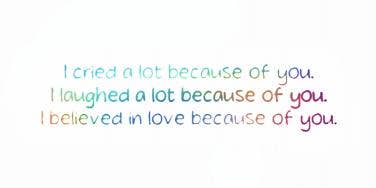 The thing about pain — much like love — is it demands to be felt.
Throwing yourself into love with another person is an amazing feeling, but it's also one full of heartbreak. As your relationship grows and you change alongside of one another, it takes a LOT of work to keep from opting out.
Sometimes the struggles are too much to bear and we prepare ourselves to leave — even when we know that that person is about to take a part of our hearts with them.
Other times, though, we choose to stick it out. We fight for what's ours because we know if we don't, we'll never get to see what COULD be.
Before you go, it's important to reflect on your relationship and ask yourself what went wrong along the way.
Did one of you change? Are you bored? Maybe they are too.
How much have you REALLY given to your relationship?
These quotes are the perfect example of what it feels like to love, lose, and fully experience life as it is. Like Alan Watts says in his talks on love, "To live, and to love, you have to take risks. There will be disappointments and failures and disasters as a result of taking these risks. But in the long run it will work out."
If you're searching for the best quotes and memes to share with the people you love (or just want to feel inspired yourself) ... look no further! From the sweetest love quotes, inspirational sayings, and hilarious relationship truths, we've got you covered.
1. When you're willing to burn right along with them.
2. It's ALL because of you. And that's OK.
3. A kiss should light your soul on FIRE.
4. What's the point of living without that FIRE in your heart?
5. That ONE person makes all the difference.
6. We are destructive beings.
7. We are meant to face our fears.
8. The strongest drug that exists is another human being.
9. You can't fully experience life without PASSION.
10. Sometimes when we love so deeply we lose ourselves along the way
11. Never regret loving someone if you gave it your all.
12. True love is never forgotten – even when we try to forget.
13. Do it with PASSION or not at all.
14. In life and in love, boxing ourselves in isn't an option.
15. If you really love them, then get ready to stand by their side.
16. Real, true, undeniable love is worth every heartache.
Previous
Next
BEGIN