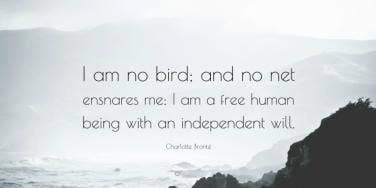 All by myself is exactly what I want.
Being independent is considered a curse to some people. Those people are idiots, and clearly dependent on others. Being independent is the best damn thing you can be in life. The only person that you need to focus on is you.
Your worries, your goals, your wins and losses. No distractions around, and definitely no unnecessary drama that relationships can bring.
It's not a death sentence; it's a time for personal growth. Take time to learn all about you, your likes and dislikes, and set some goals for yourself. Having that time alone will allow you to appreciate what things you bring to the table, and you'll love how satisfying it feels to not be tied down to anyone.
And you will have time to do whoever and whatever you please. The day will come when you're ready to settle down, find a life partner, and start a family. But don't ever feel like you're racing against a clock. There is no set time for anything, just let life happen. Don't try to control your destiny, just embrace it for what it is and be happy being alone.
And if you're ever unsure, think of it as a challenge. Challenge yourself to experiencing things solo, and see how it makes you feel.
Go to the movies alone, dine alone in a restaurant. Don't always rely on family and friends to have a good time, sometimes being alone is just as satisfying. Don't go by someone else's schedule, follow your own.
But if you're not completely comfortable with that then start small, and going for a solo jog or hike, or even some light cardio at the gym. Or just stay at home and Netflix and chill by yourself. Having little self-reflection sessions every day goes a long way to being comfortable and content being alone.
If you're searching for the best quotes and memes to share with the people you love (or just want to feel inspired yourself) ... look no further! From the sweetest love quotes, inspirational sayings, and hilarious relationship truths, we've got you covered.
Ride the waves with no fear
"She stood in the storm, and when the wind did not blow her way, she adjusted her sails."
Independence is a widely attractive feature
"Be fiercely independent, self-sufficient, and utterly charming."
Stand out
"It takes nothing to join the crowd. It takes everything to stand out."
Learn to stand alone proudly
"Be an independent thinker at all times, and ignore anyone who attempts to define you in a limiting way."
Keep that fire lit
"Sky above me, earth below me, fire within me."
Be confident to stand alone
"Don't lean on others; you don't need to. You were born with two feet for a reason."
Independence comes with zero instructions
"You couldn't handle me even if I came with instructions."
You control your happiness
"The only person who is going to give you security and the life you want is you."
You can take care of yourself
"People aren't always going to be there for you, that's why you learn to handle things on your own."
I can handle anything by myself
"I love being independent and working on my own shit."
Dance like you don't care who's watching
"I think if you can dance and be free and not embarrassed, you can rule the world." -Amy Poehler
Don't be afraid of the dark
"Don't depend too much on anyone in this world because even your shadow leaves you when you are in darkness."
Solo and loving it!
"I don't depend on anyone to feed me. What I need, I am capable of attaining. Even happiness is something I can get on my own."
Be your own superhero
"She needed a hero, so she became one."
Previous
Next
BEGIN