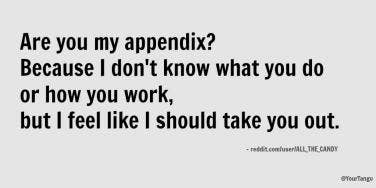 When Reddit pics their favorite bad pick-up lines, they're not messing around...
There is a certain degree of artistry behind bad pick-up lines.
Because it's easy to be awkward when you're trying to hook-up with a complete stranger. It's easy to walk over to them in a bar, mumble a terrible conversation-starter, and slink away without them ever registering your presence. Being that BORING, being that forgettable, is a surprisingly easy thing to accomplish.
BUT being memorably, hilariously AWFUL while trying to pick up a stranger… THAT takes some work. Because anyone can muster up the courage to squeak out, "Hey, do you want to get coffee?" However, it takes a special kind of fearless to completely forget about all notions of shame and modesty, look a person in the eye, and declare, "Are your pants a mirror? Because I can see myself in them."
I would love to see some research on the historical effectiveness of those classically terrible pick-up lines. Do they ever work? Do people ever respond to them? Or does it all come down to how the lines are said and who exactly is saying them? (For example, how effective is a line like "Girl, you're so hot, my zipper is falling for you!" in real life? And how much more successful would it be if Channing Tatum said it to you in a bar, as opposed to Gary Busey?)
Last year, someone asked the AskReddit forum on Reddit for its selections for "the worst possible pick-up lines," and the responses were pretty amazing. (No website does "lack of shame" better than Reddit.)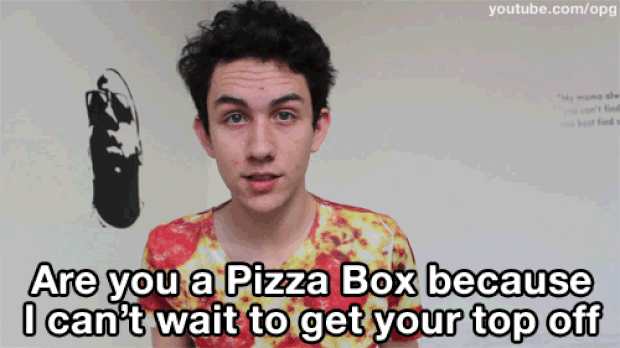 Their contributions ranged from the clumsiest dad jokes to some of the most beautifully filthy one-liners you've ever heard. These pick-up lines are both eye-rollingly awkward and so bizarre that they just might be genius. Use these lines at your own caution. If you're not Channing Tatum (or Jenna Dewan Tatum), there's a very decent chance you'll be going home alone after trying them out.
Nobody wants your old garbage.
"Are you an antiquer? Cause I have some junk that hasn't been touched in years."
Not a flattering comparison, but definitely creative.
"Are you my appendix? Because I don't know what you do or how you work, but I feel like I should take you out."
Insert waggling eyebrows here.
"If you were a fruit, you'd be a FINEAPPLE…"
There are so many variations on this one out there.
"What fucks like a tiger and blinks?"
(Starts blinking furiously)
Flattery like this will get you nowhere.
"Girl, if I was a fly, I'd be all over you, cause you're the shit!"
Nick is trying SO hard.
"Hey, did you drop something?"
"Uhhm, I don't think so."
"Your standards. Hi! I'm Nick."
Refreshingly honest.
"Can I buy you a drink or do you just want the money?"
This is a bold choice.
"Hey baby. I just shit my pants, can I get in yours?"
If she has a degree in statistical analysis, this might work.
"You must have a p-value of at least 0.05, because I fail to reject you."
You have to appreciate the classics.
"Nice legs. What time do they open?"
Previous
Next
BEGIN