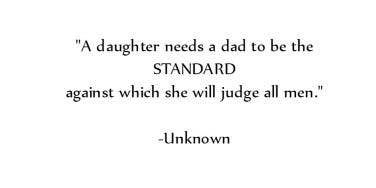 Because Father's Day is the best time to admit how amazing they are.
It seems to be that all dads have this pact where they agree that to be a dad you have to: make ridiculously corny jokes, make it their life's mission to annoy us to no end (which, let's be honest, they all do pretty well) and be fiercely protective of his little girl.
But despite their annoying need to bother us and make "dad" jokes, we still love them and if we're honest, they are the most important men in our lives.
They have always been there for us when we needed them, whether we knew it or not. Our dads are there when we need a shoulder to cry on, a hand to hold a smile on our face. They make us laugh even if we don't want to, bail us out if we get into trouble and are always ready and willing to come to our defense.
They may not always get proper credit but dads really are so great that it's hard to put it into words.
So instead of coming up with something on your own, we rounded up 21 quotes that are both inspirational and hysterical that perfectly sum up your amazing dad just in time for Father's Day.
If you're searching for the best quotes and memes to share with the people you love (or just want to feel inspired yourself) ... look no further! From the sweetest love quotes, inspirational sayings, and hilarious relationship truths, we've got you covered.
Because not everyone can be a dad.
"It is easier for a father to have children than for children to have a real father." -Pope John XXIII
Because your dad helped you realize your dreams.
"I've said it before, but it's absolutely true: My mother gave me my drive, but my father gave me my dreams. Thanks to him, I could see a future." -Liza Minnelli
Because he is better than any other ATM.
"A father carries pictures where his money used to be." -Unknown
Because he is the best at giving out advice.
"My sisters and I can still recite Dad's grilling rules: Rule No. 1: Dad is in charge. Rule No. 2: Repeat Rule No. 1." -Connie Schultz
Because he always pushes you to be amazing.
"A successful father will produce a child far greater than himself." -Troy Vincent
Because your dad always believes that you can do everything.
"The quality of a father can be seen in the goals, dreams and aspirations he sets not only for himself but for his family." -Reed Markham
Because you're starting to realize how smart he always was.
"The older I get, the smarter my father seems to get." -Tim Russert
Because you are always on his mind.
"A father thinks about his children day and night, even when they are not with him and he will love them forever in a way they could never understand." -Unknown
Because you really don't thank him enough for all that he does.
"A good father is one of the most unsung, unpraised, unnoticed, and yet one of the most valuable assets in our society." -Billy Graham
For all the times he's passed on his wise words of wisdom.
"I believe that what we become depends on what our fathers teach us at odd moments, when they aren't trying to teach us. We are formed by little scraps of wisdom." -Umberto Eco
Because your dad is always there when you need him.
"No matter how old she may be, sometimes a girl just needs her dad." -Unknown
Because your dad will always be there to protect you.
"Being a Daddy's Girl is like having permanent armor for the rest of your life." -Marinela Reka
For all of the roles he's played to help you.
"Dads are the most ordinary men turned by love into heroes, adventurers, story-tellers, and singers of song." -Pam Brown
To show how much we love him even if we sometimes fight.
"That is the thankless position of the father in the family - the provider for all, and the enemy of all." -August Strindberg
Because we love them even though they're not perfect.
"I found out that I'm a pretty bad father. I make a lot of mistakes and I don't know what I'm doing. But my kids love me. Go figure." -Louis C. K.
For all the times he's made you laugh and made you cry.
"This is the price you pay for having a great father. You get the wonder, the joy, the tender moments - and you get the tears at the end, too." -Harlan Coben
For all the times he showed you what was what.
"My father didn't tell me how to live; he lived and let me watch him do it." -Clarence Budington Kelland
Because he will always do whatever he can to make you happy.
"There are three stages of a man's life: He believes in Santa Claus, he doesn't believe in Santa Claus, he is Santa Claus." -Unknown
Because no one will EVER be able to take his place.
"I am not ashamed to say that no man I ever met was my father's equal, and I never loved any other man as much." -Hedy Lamarr
For all the time you have each other's back.
"I love my dad, although I'm definitely critical of him sometimes, like when his pants are too tight. But I love him so much and I try to be really supportive of him." -Liv Tyler
Because your dad will always be your #1 man and your inspiration.
"A daughter needs a dad to be the standard against which she will judge all men." -Unknown
Previous
Next
BEGIN