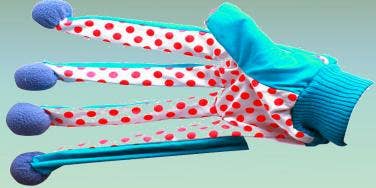 Is this for your pussy or for YOUR pussy?
There's a rule about all sex toys that enter my house, be it for review or for my own enjoyment: the cats must inspect all items.
To be clear, this is not a rule of my own making. I am not a pervert, allowing my cats free access to all of my sexy, sexy, sex toys. My cats have spent the better part of their tenure in my home training me. There's a reason they eat twice a day. There's a reason they meow closed doors. There's a reason they pull hair elastics out of my hair without blinking. I am that reason.
When my kegel weight trainers arrived in the mail, my cat was positive they were for him. I mean, to be fair, they are mouse-shaped and have a tail. To be even more fair to him, the innovations in both the fields of adult and pet recreation have been exponential in the last few years.
It can be almost impossible to tell the difference between a toy meant to amuse you cat, and a toy meant to amuse your, you know, other cat. Don't believe me? That's cool, I've compiled evidence to sway you because I am a GODDAMN JOURNALIST, PEOPLE. I beg you consider, cat toy or sex toy?
Tickle, tickle
You could bring this into the bedroom. I'm sure someone somewhere would find the idea of being tickled with polka-dotted pompoms sexy. Someone. But you're better off saving this for floor time with kitty.
CAT TOY.
Something fishy...
To close I've giving you a double whammy: Behold, a sensible and attractive fishbowl to keep you felines nice and entertained. And what's that orange tube hanging out in the middle of said bowl? IT IS A DILDO. Whoever invented this deserves a goddamn medal.
BOTH
Tail's over
Remember before when I had you going, thinking you were looking at a butt plug? This is a butt plug.
SEX TOY
Tickle, tickle
Humans and cats alike enjoy playing with ticklers. Use them for sexy-time teasing, or for taunting and working out the crazy from your cat. Just make sure you keep it nice and separated.
BOTH
The future is bright
As we've now learned, there is nothing remotely strange about keeping a vibrator in plain sight. That's cool, but this remote control toy won't make your mama blush. It shoots lasers to keep your animal friends entertained!
CAT TOY.
Oh my...
With how high tech cat toys have become, I wouldn't fault you for looking at this and thinking it is some manner of head massager for a small spoiled cat. And it is, just not the one you by Fancy Feast for.
SEX TOY
Me-ow
Butt plugs are just nutty! I can't get over how many hilarious variations exist, with all manner of tails adorning their bottoms. But that is neither here nor there as this is a remote control cyber-mouse.
CAT TOY
Blinded me with science
Place this piece of high tech splendor on your mantel for all to enjoy. But maybe don't let folks handle it, unless you are a filthy pervert. This is the Revel Body personal vibe. It might look like a tennis ball, but keep your kitty away from it if you still plan on putting it near your pussy.
SEX TOYS
Gets me going
Maybe you and your partner like to play games. But catch probably isn't one of them. If it is, get yourself going chasing these throw sticks all over your place. Or leave that to the professionals.
CAT TOY
Previous
Next
BEGIN