Photo: The Melideos.com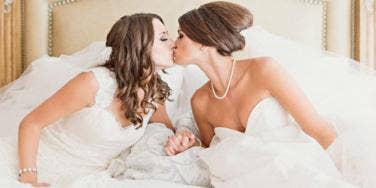 Love is love is love is love.
June is LGBT Pride month, but anytime is a good time to celebrate love. So what better way to do that than share beautiful same-sex wedding photos?
I thought it would be easy to get these photos from friends and professional photographers alike, but strangely it wasn't; people were a lot more reticent about strangers seeing their wedding pictures. There were a number of photographers I contacted who thought their clients would feel uncomfortable in sharing their wedding photos, and even some of my friends were shy about sharing.
This makes me sad; as if all the work and struggle to make same-sex marriages legal and accepted hasn't really ended. The battle has been won, but the war of acceptance wages on.
Marriage shouldn't be differentiated in any way; marriage is marriage, no matter what gender the participants identify with, and love is something that all of us should be able to express in any way we can. We should be able to wed whom we want and no one should begrudge us.
I know that some people believe the images that capture their special days are private and should only be seen by a close inner circle, and I respect that. However, when people see these pictures that we've included in this gallery (through the kindness of the individuals involved), and they see the incredible joy and happiness on the faces of those getting married, it will teach them that love is truly something to celebrate.
These pictures are breathtakingly beautiful with their gorgeous brides, grooms, unique locations, sense of fun, and visible feelings of love. Here are seven stunning same-sex wedding photos.
For more fantastic wedding photos, please visit each of these gifted photographers: The Melideos.com, Clanegessel.com, Chrisman Studios, Popwed.co, LisaRobinson Photography, Theilen Photography, Del sol Photography.
1. Two grooms makes for double happiness.
There's no mistaking that both of these handsome grooms are incredibly happy.
Photo: lisa robinson photography
2. These brides look gorgeous on the rocks.
This visually striking photo seems to suggest that no matter what challenges come this couple's way, their love will give them the strength to overcome it.
3. This couple is having an alternative wedding adventure.
If you're planning on getting married in the D.C. area, Popwed.co can make sure that you have a fast, fun, and completely unique wedding — just like these brides!
4. This wedding has a laid-back California vibe.
This wedding photo feels fresh, spontaneous, and full of joy.
Photo: theilen photography
5. It's just two brides riding bikes.
It's exciting to see a wedding photograph that's so creative, so unique, and yet perfectly captures the happiness of two people finding their perfect mate.
Photo: Mauricio Arias/Chrisman Studios
6. Grooms celebrating in an Indian themed wedding
This image encapsulates everything that's needed in a fantastic wedding shot: a deliriously happy couple, color, unique touches, and a vibrancy that makes you feel as if you're experiencing it yourself.
Photo: delsol photography
7. Two colorful brides share a first dance.
Love, commitment, and happiness are great, but wedding pictures also need to be fun, colorful, and interesting. This photo has that and more.
8. Two grooms have a traditional Jewish wedding.
Mazel tov and continued happiness to this happy couple!
Photo: delsol photography
9. Two brides in white, under a white canopy on the sand.
Their arms are raised in celebration and joy as if they're saying, "Yay, we did it!"
10. Two grooms smile on their big day.
We don't know what this couple's journey to the altar was like, but it's pretty clear they're happy to be right where they are.
11. Two brides sit on a bed sharing a kiss.
When you find the one, hold on as tight as you can, for true love is precious.
12. Two grooms laugh as they are surrounded by light.
This image shows that sometimes the smallest gesture, like a hand on a shoulder, conveys the deepest intimacy.
Photo: delsol photography
13. Everyone is happy, including the officiant.
The joy that this couple feels makes everyone around them feel happy and hopeful.
Photo: lisa robinson photography
14. A wedding party made up of smiles and love.
This wedding party is absolutely overflowing with love and happiness.
15. Tying a tie before tying the knot.
In this shot, the groom gets a helping hand in tying his tie. Friendship and love are often demonstrated in small gestures.
Photo: theilen photography
16. The first dance of the newly married couple.
This stunning photo looks like it's right out of a movie, as a single light spotlights the newly married couple as they dance closely together.
17. Two brides holding hands.
These two brides make their way through a shower of confetti as they begin the next stage of their life together.
Previous
Next
BEGIN