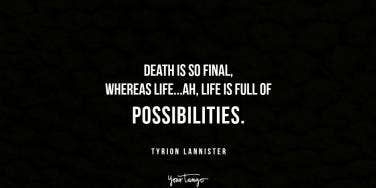 Yes, you read that right. GoT is pretty inspiring!
PSA: there are actually NO spoilers in this post — unless you don't want the names of the characters in the show to be spoiled in which case, yes, there are spoilers — so go ahead and read it before the Season 7 Game Of Thrones premiere!
When you think of Game of Thrones, what are the first things that come to mind?
Sex? Violence? Hot men and women? Incest? The show's ability to (metaphorically) punch you right in the gut and make you cry? Constant drinking?
Yes, those are all in the show. In fact, I don't think you can get past an episode without all of those appearing at one point or another.
But let's clear something up: that's not what Game of Thrones is about and, when you look past it, it is actually one of the most inspirational — and best — shows out there.
Yes, Game of Thrones is inspirational.
I mean, it's even listed in Rolling Stones' Top 100 Greatest TV Shows Of All Time so clearly, I'm not the only one who thinks this show is AWESOME!
What makes it so popular, so brilliant and so loved is that it's a show about loyalty, love, duty and honor. It's about helping those we love and defending those we don't even know.
It's about bravery and courage, intelligence and kindness and hope. It's about pushing through the hardest of times and coming back even stronger.
And at its very core, it's about good and evil and all of the shades of gray in between (no, not like those Shades of Grey) because that is the beauty and brutality of life.
It's a show with brilliant lessons, loveable characters, and did we mention the BADASS women?
It's not easy for everyone to push themselves to watch a show with so much sex and gore. I understand that.
But it is totally worth it.
And if you don't want to believe it, check out 24 of the BEST Game of Thrones quotes that serve as powerful and inspirational lessons EVERYONE should learn from.
If you're searching for the best quotes and memes to share with the people you love (or just want to feel inspired yourself) ... look no further! From the sweetest love quotes, inspirational sayings, and hilarious relationship truths, we've got you covered.
Start each day off positively.
"Today is not the day I die." —​ Oberyn Martell
You have to be willing to listen to others.
Our job is to help people.
"There's so much good in all of us. The best we can do is to help each other bring it out." — High Sparrow
Leave the past in the past.
"The past is the past, the future is all that is worth discussing." —​ Petyr Baelish
Don't take sides in someone else's fight.
"It's all the choosing sides that made everything so horrible." — Shireen Baratheon
Do what is right, not what is easy.
"It's easy to confuse what is with what ought to be, especially when what is has worked out in your favor." — Tyrion Lannister
Never give up.
"There is only one thing we say to death: Not Today." — Syrio Forel
Every person can make a difference.
"No doubt many of us would fall. But who are we? We have no names, no family, every one of us is poor, powerless, and yet together we can overthrow an empire." — High Sparrow
Embrace who you are- the good AND the bad.
"Let me give you some advice, bastard. Never forget what you are. The rest of the world will not. Wear it like armor and it can never be used to hurt you." — Tyrion Lannister
Don't be afraid to live your life.
"A single day of freedom is worth more than a lifetime in chains." — Grey Worm
Allow yourself to be sad but don't let it consume you.
"It's beautiful beneath the sea, but if you stay too long, you drown." — Three-Eyed Raven
Don't worry so much and enjoy life.
"Don't worry about your death. Worry about your life." — Petyr Baelish
You control your destiny.
"Take charge of your life for as long as it lasts." — Petyr Baelish
Never say never.
"A lot can happen between now and never." — Petyr Baelish
NEVER give up.
"Death is so final, whereas life...Ah, life is full of possibilities." — Tyrion Lannister
It's OK to ask for help.
"Some people will always need help. That doesn't mean they're not worth helping." — Meera Reed
Lasting love takes work but it totally worth it.
"Love didn't just happen to us. We built it slowly over the years, stone by stone....It's not as exciting as secret passion in the woods, but it is stronger. It lasts longer." — Catelyn Stark
Sometimes kindness is the best weapon.
"Sometimes it is best to answer injustice with mercy." —​ Ser Barristan Selmy
Like a dragon, you can survive ANYTHING.
"Fire cannot kill a dragon." — Daenerys Targaryen
It is far more rewarding if you earn it.
"Any fool with a bit of luck can find himself born into power. But earning it for yourself, that takes work." — Lord Varys
Move on from the past but never forget it.
"Yes, it's in the past. It doesn't mean I forget." — Brienne of Tarth
Things have to change in order for them to get better.
"Sometimes a person much choose. Sometimes... the world forces his hand. If a man knows what he is and remains true to himself, the choice is no choice at all. He must fulfill his destiny, and become who he is meant to be." -Stannis Baratheon
Always support those you love.
"We must be strong for those we love." — Cersei Lannister
Don't be so afraid of failing that you can't risk winning.
"We march to victory or we march to defeat. But we go forward. Only forward." — Stannis Baratheon
What makes a person great is what they DO not who they are.
"A very small man can cast a very large shadow." — Lord Varys
Previous
Next
BEGIN