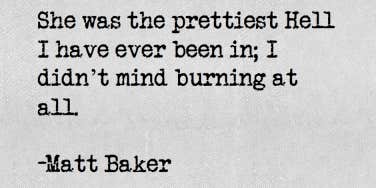 Turn up the A/C! Whew!
Matt Baker is well known for his poetry, which can be seen, shared, and liked all over the internet. His popularity rose from posting his poems on Instagram, and his fan base grew from there.
And more than 13,000 followers later, he was able to become a published author of two amazing books of poetry, The Lush and The Architect and A Burning Bridge Is A Warm Goodbye: Poems, Quotes and Panic, and two more books are due out this summer. Baker's poems cover all areas of life, from love, sex, and even death.
YourTango got a chance to chat with the hunky, tatted artist himself and pick his brain about his poetry.
Q. Are you inspired by anything or anyone while you're writing poetry?
Matt Baker: "Honestly music, and just reading the works of Rimbaud, Kerouac, Bukowski, and the dictionary, haha. There are many others but those are just a few".
Q. What makes you gravitate towards writing about certain subjects? Ex. Love
MB: "Love is an undefined word, some use it in their work without knowing the meaning, it is really a mystery to most of us, and well, I enjoy a good challenge. When I write about the subject I hope that someone, even if it is one person, can relate to my definition of this four letter word.
Q. Why did you decide to start posting your poetry on Instagram and how has that affected your career?
MB: Words and inspiration should be free; when the followers, and I call them family, decide to give you money for a book, then that is the icing on the proverbial cake. I just want anyone to relate to it. It is a wonderful elation when one person is touched by a brief clutter of words.
Q. You've written many incredible poems, but is there any one that stands out to you or that you can relate to the most?
MB: Out of the 15,000 that I have written, and out of the 8,000 I have published on Instagram, I would say every single one is from my heart, and I relate to. If I had to go with just one it would be, "She was the prettiest Hell I have ever been in; I didn't mind burning at all."
For many more amazing poems, you can follow Matt on Instagram at @themattjbaker. But in the meantime, check out 15 amazing poems that will make you feel some type of way. All the feels.
If you're searching for the best quotes and memes to share with the people you love (or just want to feel inspired yourself) ... look no further! From the sweetest love quotes, inspirational sayings, and hilarious relationship truths, we've got you covered.
True heartbreak
"At first she was fire and at last she was rain; she reduced me to ashes and walked away."
Intelligence is always attractive
"Romanticism was never dead; stupid men just forgot the beauty of intelligent women".
Just keep spinning
"Kindness comes from a broken stride; this world will spin you around until you are ready to fall, and ride the rollercoaster once again".
Burn baby burn
"She's the prettiest hell I have ever been in; I didn't mind burning at all".
We found love in a hopeless place
"She was just fragments when I found her, then we made art, and love out of our broken pieces".
matt baker love quotes
"Find peace in that chaotic mind of yours, then give your enemies hell with a real warm embrace".
Bad boys make good company
"Apples often drop, and fall far from the tree, but get eaten by beautiful women".
Lust comes with a price
"She is a raging sea, a beautiful doom that terrifies men, and washes them ashore, to be in her depths is to love her to death".
Hear her roar!
"I watch her walk across a room, and I am jealous of the many roads she has traveled with such confidence, and the pride of a lioness."
Strong and sexy as hell
"She was a mystic; a body born with electricity, a mind never controlled, and one hell of a fight in her."
Look, but don't touch
"She is forbidden fruit under the shade of a poison tree on a hot summer day."
Walk on the wild side!
"Words are easy, actions are Hell; take a walk through the fire, baby".
It all starts with a smile
"Break the rules of life; never adhere to the rules of love...carve you own path with a smile".
Take me to church!
"Her body was church and I needed to confess my sins".
Love is bewitching
"If my curse is that I love too much of her then let this be my hex forever".
Previous
Next
BEGIN