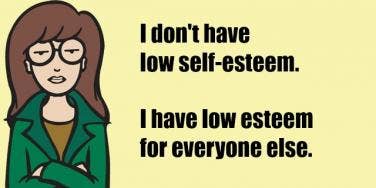 Behold, the genius of Daria.
In the 1990s MTV's animated anti-hero Daria Morgendorffer was the epitome of cool. With her sensible skirts, round glasses, kick-ass Doc Marten's and monotone delivery the only thing keeping her from a career on NPR was her brutally jaded outlook on life and the fact that podcasting was not yet a thing. Too bad. I'd love to get her take on relationship advice a la Dan Savage.
Because I was a teenager during Daria's 15 minutes (and because I too favor Docs, specs, and a brand of sarcastic delivery that puts even Tommy Lee Jones to shame), the Daria comparisons were inevitable.
Back then, I resented it. Being glib and having a deep voice didn't mean I shared Daria's outlook on life. Truth be told, I'm much more quick to laugh and to find joy in inane things like kittens yawning or someone farting during a wedding. But now that I'm 32, I'm more than willing to admit that Daria's inspirational quotes and commentary on life today might make her the sagest teenager that ever did teenage.
***If you're searching for the best quotes and memes to share with your people (or just want to feel inspired yourself) ... look no further! From the sweetest love quotes, inspirational sayings, and hilarious relationship truths, we've got you covered.***
Daria isn't afraid to confront her inadequacies.
"Do you ever feel like you're wasting your life? Only when I'm awake."
Life is not, despite what Leslie Gore would have us think, all sunshine and lollipops. Daria knows.
Daria isn't deceived by appearances.
"The girl is very pretty, and your first reaction is, oh she must be such a happy teenager. But maybe that's not the whole story."
A person's true nature cannot be deduced by the brand of lip gloss they prefer.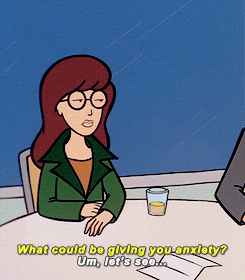 Photo: Giphy
Daria tackles the void.
"What could be giving you anxiety, Daria?"
"Well, let's see..."
Today it ain't no thing to talk about anxiety. But back in the day, Daria was breaking major ground.
Daria knows a balanced meal when she sees one.
"I'm starting to think this is going to require more pizza."
Having more pizza is never not the best idea a person has ever had.
Daria distrusts mankind.
"Everybody lies, no exceptions."
Decades before Doctor House limped onto the FOX network, Daria was beating him at his own game.
Daria respects caffeine.
"I believe in coffee."
Who says slackers don't believe in anything? All hail the might bean. Pass the java, if you please.
Daria is no breeder.
"I didn't even like kids when I was a kid."
Daria isn't going to pretend to be comfortable with something just because society tells her she should. And that includes the notion of human beings and their spawning.
Daria is not self-actualized.
"I don't have low self-esteem. I have low self-esteem for everyone."
The silver lining of having crushing low self-esteem? It removes any semblance of artiface from your social interactions. Whee!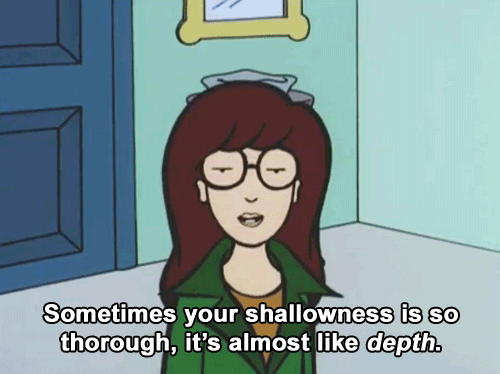 Photo: Giphy
Daria has mastered the burn.
"Sometimes your shallowness is so thorough it's almost like depth."
There's the average yo' mama joke, and then there's the slow, smart, burn that takes a while to blister. Daria has her black belt in these smart disses.
Previous
Next
BEGIN