Photo: Neely Ker-Fox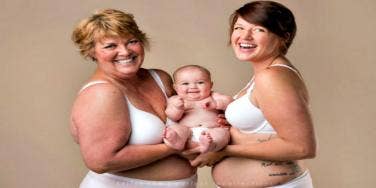 Women at their most vulnerable and brave.
After giving birth for the second time, photographer Neely Ker-Fox barely recognized her own body.
"The days would ebb back and forth between grieving my previous physique, to truly understanding and battling to find strength in the fact that I've grown two babies in that body," Ker-Fox says on her website. "I'm still not there, not fully 100 percent in acceptance of this new body, but the days pass and I forget the details of that elusive pre-pregnancy body, and I cling to these moments with my babies that need me."
Her "Perfect Imperfections" photo series was a way to help women of all kinds see how beautiful they are, because Ker-Fox believes that art and photography have the ability to heal.
"This project is so much more than photos of stretch marks or cellulite," she told The Huffington Post. "It's about women coming out of the shadows and discussing their everyday struggles in an effort to normalize, to empower, and to educate."
Ker-Fox has high hopes for her images.
"The more society is exposed to these real people, the more women will feel empowered to talk about postpartum, fertility issues, postpartum depression, bullying, and the more others can find peace knowing they are not alone in their struggles," she says. "At our core, we simply need to know that we are not alone."
The changes that Ker-Fox hopes to make with her images aren't only focused on motherhood — she also hopes to include all different kinds of people, with all kinds of different challenges.
"I'm convinced people of all ages, genders and races, people with differing reasons for struggling to find acceptance of their body image, could benefit from this. I want to see more diversity next time: postpartum, weight gain/loss, cancer, amputees, paraplegics ... I could go on and on."
The photos are stunning in their honesty, beauty, and vulnerability:
2. Three is better than none
All women's bodies are beautiful and unique.
3. Loving mother
For some of the participants in this photo series, it was a way to heal and empower themselves.
4. Joy from a new baby
Our bodies are ever-changing. Rather than despair over a line or a bump, try to accept and embrace each new stage of your body.
5. Surrounded by love
Judge yourself on who you are, not what people say about you.
6. Breastfeeding mama
Our bodies can do amazing things.
7. Unwavering love for yourself
Being vulnerable and strong at the same time are beautiful.
8. Embrace your child and your body
Are you ever as safe as when you're in your mother's arms?
9. The sky is the limit.
When you accept yourself, you have no limitations.
10. Confidence is sexy.
As women, we battle with body issues. But the battle is over — we are all amazing, spectacular warriors.
Previous
Next
BEGIN