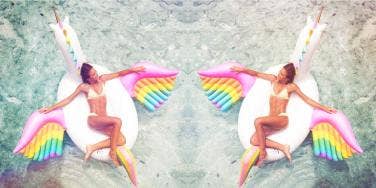 Splish splash.
Slowly but surely, the temperature is rising, and summer is on its way.
Whether you're counting down to a beach vacation or just some time to relax in the sun, we all have something to look forward to. Summer is a time to go on adventures, make memories and take time to really enjoy the things you love in life.
While it might be tempting to spend your summer days hiding from the heat in your bedroom with a Netflix binge, you'll benefit a lot more from getting outside.
As we creep closer and closer to those hot summer months, it's good to be prepared with all the necessities: koozies, bathing suits, mojitos, sunscreen, sunglasses, oversized towels and of course, pool floats.
Sure, you could go with the traditional inflatable tube. It's reliable, classic and get the job done. But summer is all about taking risks and spicing things up! Why not translate that mindset into your pool decor?
Summer is all about trying new things and putting yourself out there. It's about coming out of the shadows and making yourself seen. It's not being afraid to be in the center of attention.
Not only will a new, unique float make you the hit of the pool party and the envy of everyone on Instagram, but it will add some more fun to your summer days.
Show off your personality by floating on a magical unicorn or a slice of pepperoni pizza. Armed with the internet (and maybe a $100 bucks), your possibilities of pool floaties are literally endless.
We've rounded up some of the cutest pool toys out there that are practically guaranteed to get some attention. So whether you'll be toting it around the world this summer or just filling up your own pool with some awesomeness, check out these super cute floats you HAVE to have:
Hot Pink Flamingo
This super cute floatie is pretty much guaranteed to get your Instagram over 100 likes.
An Entire Pizza
Brings a whole new meaning to a "pizza party."
Gummy Bear
This float may or may not make you want a snack.
Majestical Rainbow Unicorn
SERIOUSLY HOW EFFING BEAUTIFUL IS THIS?!
Poop Emoji
This pool float is guaranteed to keep all the boys away so you can enjoy some peace and quiet.
Artsy Swan
Who knew a pool float could be a work of art?
Fancy Swan
You'll be the most stylish girl at the pool part with this guy.
Moby Dick
No word yet on if this float comes with your own boy toy.
T. Rex
Terrify everyone in your community pool with this scary green monster.
Pink Shell
You'll feel like real mermaid with this bad boy.
Tropical Drink Party Floats
Let your red solo cup float in style with these adorable inflatable koozies.
Golden Pegasus
Your dreams of being a Greek goddess can finally come true...with a pool floatie.
Best Friend Heart
You and your bestie can float off into the sunset with this adorable pool set.
The Dream
Play your cards right, and this could be YOU this summer.
Previous
Next
BEGIN