Photo: Introvert Doodles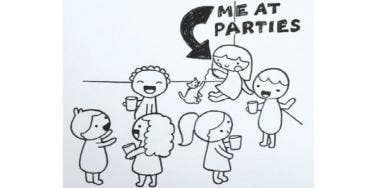 NAILED IT.
If you're the kind of person who sees an invitation as something to endure and not something that's fun, you may be an introvert. Being an introvert isn't a bad thing, it's just another way of being. There's no shame in preferring to stay home with your pets watching Netflix rather than go to an event with strangers and have to make conversation.
As someone who is notorious for leaving parties early, I can fully relate with Marzi Wilson and her comic series of drawings, Introvert Doodles.
"These began by accident. I was feeling disappointed with myself for turning down invitations and not being the 'fun' person I felt I should be," Wilson told The Huffington Post.
Over time, Wilson realized that she was OK exactly how she was. In one of her autobiographical doodles, she says, "I don't need to change to fit someone else's ideal. Of course, being introverted in an extrovert world means that I end up in a lot of awkward situations. But now, I can laugh about them."
Her drawings show the humor, angst, relief, uncomfortableness, and often extremely awkward moments in the daily life of an introvert. Wilson writes, "My 'flaws' were a part of a bigger picture. And the things I like best about myself (being perceptive, creative, and thoughtful) go hand-in-hand with my introvertive tendencies."
It isn't that introverts don't think to be around people, they just enjoy their own company and aren't dependent on other people to enjoy themselves. They even enjoy some social gatherings, just usually not out-of-control, loud, obnoxious parties. For introverts, some parties can lead to getting stressed out.
Check out 11 of Wilson's Introvert Doodles and get a glimpse of what life is like for someone who'd rather be reading at home than be the life of the party.
1. Applying for jobs
If you're someone who doesn't like to work with others, and are quiet and not a risk taker, see those qualities as strengths instead of weaknesses.
2. Best feelings in the world
An introvert's favorite feelings are comfort, reward, relief, and happiness.
3. This is what anxiety feels like.
"Being on stage ALL the time and you don't know your lines." We've all been there.
4. Conversations go like this...
It's much easier to carry on a conversation with someone who can't talk back.
5. Parties involve playing with the cat.
Hey, somebody needs to play with the cat.
6. You fill the board in no time.
If you win at introvert bingo, you don't have to do anything you don't want to for a week.
7. Anything is easier than saying how you really feel.
Why go anywhere when you can stay at home?
8. Power-save mode is a thing.
Parties are especially draining for an introvert, so you save your energy the best way you can.
9. An introvert in her natural habitat
An introvert is in their element when they're comfy, cozy, and alone.
10. Every day is requires a pep talk.
You know what? No pep talk needed — we're good.
11. Doing so much reading
There's nothing that compares to losing yourself in the world of a book.
Previous
Next
BEGIN