Photo: Pinterest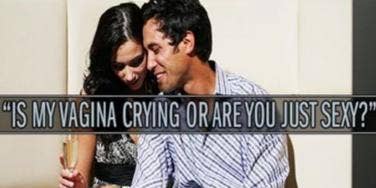 Such cheesy goodness he'll be making you a sandwich by lunch-time tomorrow...
Pretty much everyone agrees these days that a woman should feel just as free to make an opening move on a guy she finds hot as a man should feel free to break the ice with a woman who catches his eye.
But what, many of us female-types wonder, is a girl to say?
I mean, I know I can roll a whole bunch of cheesy pick-up lines off my tongue at the drop of a hat, but they'd mostly be of the man-picking-up-woman variety, not the other way around.
Oh, sure, the aforementioned girl could simply try the time-worn, "Hi, I'm (Insert name here). How are you?," but since when is anything supposed to come easy?
I've heard many a guy defend the inanely crass opening-lines used by themselves and/or other dudes on online dating sites with the reasoning that "a guy has to do SOMETHING to stand out!" These fellows lament their struggle breaking through the massively over-stuffed inbox's of the women they desire, decrying the unfairness of it all and imploring women of the world to pay some attention according to their efforts, and not merely according to their height and the weight of their wallets.
Which makes me wonder: is that what they're implying we should be doing too? Should women be trying the same technique to catch that hottie in downtown's eye before Jennie-from-the-block snags him with her far superior cleavage intellect? Should women who are less endowed with legs-up-to-there clever ideas invest some time (i.e., lose even more apparently sorely needed beauty energizing sleep) composing the perfectly shocking alternative to "nice to meet you"?
Worry not, my girlfriends. I have done the pre-requisite Pinterest-searching soul-searching for you.
And now, I proudly present my 10 personal favorite pick-up lines for women ... (just promise to let me know if they work!)
The Australian Kiss
"Want to give me an Australian kiss? It's like French kissing, but you're going down under."
Who doesn't get excited by a big delivery?!
"If I told you I worked for UPS, would you let me handle your package?"
A gentleman should get a lady her seat, right?
"You know what would make your face look better? If I sat on it."
You just have to love a hard worker!
"You look like a hard worker. I have an opening you can fill."
Crying from the laughing ...
"Is my vagina crying, or are you just sexy?"
Candles are SO romantic.
"Are you a candle? Because I'm going to blow you."
Give a gal a bone ...
"My body has 206 bones. Want to give me another one?"
Always becoming ...
"That suit is very becoming on you. Then again, I would be too."
Beaver, anyone?
"I know why they call it a beaver. Because I'm dying for some wood."
Knock those socks off, ladies!
"I'm not wearing any socks. And I have the panties to match."
Previous
Next
BEGIN