Photo: kosogkaos.no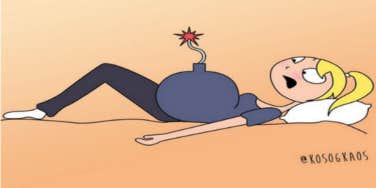 Do not provoke the pregnant lady.
When you're pregnant, people seem to think they can ask you anything or touch your belly without permission. Boundaries are definitely crossed when you're pregnant.
Line Severinsen is an illustrator, animator, and UX designer living in Bergin, Norway. She started drawing these cartoons as a personal diary in 2012 when she was pregnant with her daughter.
"I was very sick the first three months, tired with dealing with some inconsiderate comments and people. That led me to start drawing," she says on her website. "By making a little bit of fun of them and the situation, I was able to laugh it off and put it behind me."
When you're pregnant, there are so many changes happening — not just with your body, but with your emotions as well.
"I thought to myself that there is no way that no other people felt and looked like I did," Severinsen told The Huffington Post. "So I wanted to create a counterpoint to help people like me to understand that they weren't alone and that it is OK to feel and act less than perfect sometimes."
Her blog became very popular and was published once a month in a magazine called Mamma Her cartoon has been written about in over 100 online magazines, newspapers and websites, and her Instagram account is up to 123,000 followers. Severinsen says, "I love all the nice feedback I've been getting lately; it inspires me to continue."
Severinsen's comics appeal to people because they're true. The humor comes from the reality of pregnancy. Instead of focusing on the magic and the pregnancy glow, Severinsen hones in on the frustrating and annoying aspects of pregnancy: stretch marks, bloating, and strangers insisting on being told the sex or name of the baby.
"The reason I made the comic and why it is resonating with so many people around the world is that we all go through some pretty weird stuff that you won't find in the regular mommy magazines and books," Severinsen said.
Here are nine of Severinsen's hilarious, honest, and real cartoons:
1. Your belly feels like a bomb.
When you're in the final trimester of pregnancy, you sometimes feel as if you could explode at any second.
2. Everyone wants to touch your belly!
People get a little crazy wanting to touch your stomach.
3. You turn into a completely different person.
Pregnancy can make you feel all kinds of ways.
4. You sometimes feel like your child is born to be a kickboxer.
It can feel as if there's a kickboxing tournament going on in your abdomen.
5. The hormones change your body drastically.
Hormones can do all kinds of delightful things to your body.
6. You try singing to your baby, hoping it will do something.
Singing is good for your baby, but maybe not so much for your neighbors.
7. You invest in slip-on shoes.
There are many unexpected challenges with pregnancy. Who knew that putting on your shoes could become an ordeal?
8. People will NOT stop asking questions and making comments.
People seem to think they can say whatever they want to a pregnant lady. Not true.
9. Going to the bathroom is a workout.
Sometimes the best workout a pregnant woman can get is sprinting to the restroom.
Previous
Next
BEGIN