Photo: Kim Grove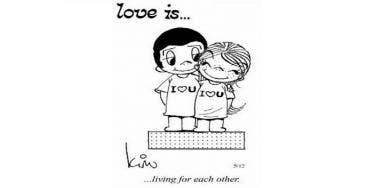 Fall in love all over again.
What is love? That's the question people always tend to ask. But there isn't really a real answer, is there? At least, not just one answer. Love is many things and is defined differently by everyone experiencing it.
Love can be sending him a "good morning" text or bringing her flowers for no reason whatsoever. Love can also be buying her favorite food when you know she's hungry or picking up his laundry for him when he has no time in the day to do so.
But love can also be getting angry at him because he did something dangerous, or being disappointed when she neglects important tasks at work because she stayed up all night watching movies.
Love can be sweet. Love can be passionate. Love can be both. But there's also love that's toxic and damaging, and that's the kind of love we don't need. We need the love that makes us feel good and turns us into better people.
New Zealand artist Kim Grove perfectly captured what love is to many different people in her 1960s "Love Is..." comic series. Grove drew the adorable little comics for Roberto Casali, her future husband. Sadly, Grove died in 1997.
According to Wikipedia, Grove said in one of her drawings, "I began making little drawings to express how I felt... It was a little bit like keeping a diary that described how my feelings had grown."
To Grove, love is the little things. Love is living for each other. Love is being worried about each other. And love is enjoying the simple things in life together.
One of her sons, Stefano Casali, continued the series in his mother's name. He and his brothers also launched a free app featuring the "Love Is..." comic series called "Love Is... Mobile."
Take a look and fall in love with 23 of these comics, and re-discover what love means to you.
1. It's everywhere and is in everything.
Life is a little brighter because of love.
2. You're always there for each other.
Our significant other gives us the support we need in everything.
3. You're in this together.
As they say, for better or worse.
4. Appearance isn't everything.
You fall in love with the person, not what's on the outside.
5. It will always prevail.
6. It's the little things that matter most.
You can get through anything in the name of love.
7. Every moment is a memory.
Whether it's the first day you met or your wedding day, you never forget the memories.
8. Take it slow.
There's no rush when it comes to love.
9. It's music to your ears.
Music sounds better when you're in love.
10. Don't be afraid to sing out loud.
You have your own soundtrack.
11. Nothing is without its obstacles.
Literally and metaphorically, love is not easy. But it's worth it.
12. Beauty is in the eye of the beholder.
Even if they are makeup-free and wearing dirty sweats, they are still the most beautiful thing you've ever seen.
13. They're first in your heart.
The quickest way to the heart is through the stomach, after all.
14. We all need alone time.
The key is knowing when your love is needed.
15. Use your words.
A daily reminder never hurts.
16. Teamwork is everything.
The couple who blogs together, stays together.
17. It's a life-long dedication.
For love to succeed, there must be mutual dedicaton.
18. It's the best story there is.
It may not be a fairy tale or a best-selling novel, but it's your story.
19. Reading isn't for everyone.
But every moment is a part of your story.
20. Giving 'em the ol' razzle dazzle
The love of your life outshines any jewel.
21. There will always be challenges.
But at the end of the day, it's worth it.
22. Time runs out pretty fast.
Ever moment should be treasured.
23. Above all, work together.
You will achieve anything.
Previous
Next
BEGIN