Photo: weheartit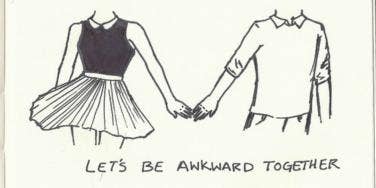 Sometimes, love is sweet. Sometimes, it's not.
You're not into all that baby-talk and public displays of affection, but you still want to let someone know how you feel about them, right?
After all, love isn't just about huge declarations of affection or whisper-shouting up to a woman in a balcony that you've only just met. Sometimes, it's about the little things in life that you're willing to endure together, or letting someone know that you would be OK with flossing next to them for the rest of your lives.
Not everything can be "sweet" love, either. Sometimes, knowing you love someone is realizing they've been peeing with the door open and it doesn't gross you out anymore. Or being able to show off your worst dance moves without risking that they wouldn't be caught dead in public with you ever again.
We can't all be Romeo, and we can't all be Juliet, either. But that's OK, because they were actually just a couple of hormone-addled teenagers that wound up dead (along with several other people). Perhaps the most romantic love of all is found in the simplest and weirdest of admissions, or finding new, unique ways to express how you love someone and have somehow not managed to get sick of them after all these years. Or realizing that you find yourself still wanting to see someone even when you're not the slightest bit turned on.
If you want to show your love and still be that awkwardly blunt couple who doesn't mince words, we've compiled a list of 25 of some of the funniest, most bizarre and semi-sweet love quotes from someecards that will make you or your significant other's day.
Whether it's about growing old or just day to day love, these cards are (sorta) sweet and perfect to send to that one person you Facebook stalked for six months before dating or marrying them.
Let's begin, shall we?
1. Love is throwing a drunk tantrum.
Because shouting your love for someone from the rooftops is less sophisticated.
2. Or realizing your shallowness
3. Sometimes, it means knowing your limits.
Relationships are a series of give and take, right?
4. It can be a pleasant surprise!
They're like the cool side of your pillow.
5. Or getting to the heart of the matter
It's the little things that let you know they're thinking about you.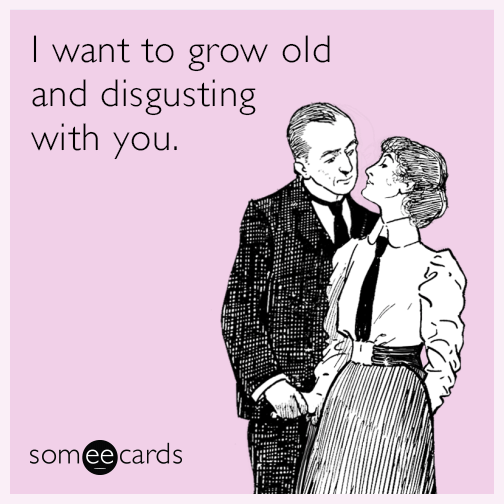 Photo: someecards
6. Envisioning a future together
You definitely need someone to share your future crotchetiness with.
7. Love means freedom.
...And occasionally a gas mask.
8. It's quick to... well...
But oh my, was it worth that nominal wait.
9. Love is being complementary to each other.
Or just to your own personal dysfunctions.
10. It can mean taking correction.
"Well we would already be there if SOMEONE didn't insist on that 'shortcut' back there."
11. Sharing is caring.
And what better way than splitting a panic attack?
12. It's an invisible bond.
No, sawing off your foot isn't an option.
13. Love means commitment to one another.
You'll already be old and gross together, so why not?
14. It's working toward shared goals.
15. It's often very intense.
Don't forget to blink, though.
16. It's sharing new responsibilities.
Like whose turn it is to max out their credit card for bills.
17. Love is appreciating beauty.
And reminding your partner that you're still totally hot for them.
18. It's about being passionate.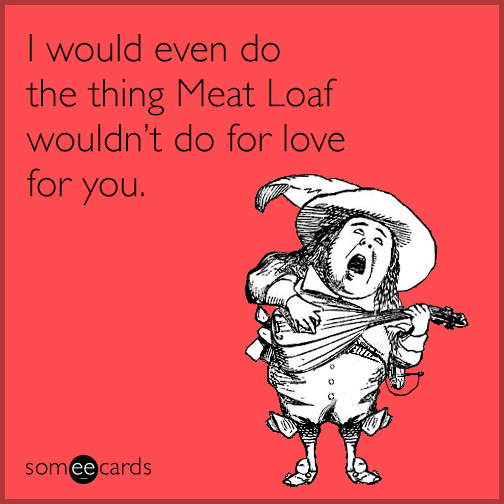 Photo: someecards
19. It's testing your boundaries.
And he would do ANYTHING for love.
20. It's developing a pattern together.
At least you'll never be bored!
21. It means expressing your feelings.
And ignoring all acceptable PDA standards.
22. It's occasionally going through tough times.
You'll be fine ... hopefully.
23. It's enjoying each other's company.
Because inside jokes are the best.
24. It's never growing tired of each other.
25. Love is always concerned with the little details.
And always trying to keep you focused on each other.
Previous
Next
BEGIN