Photo: Adrienne Hedger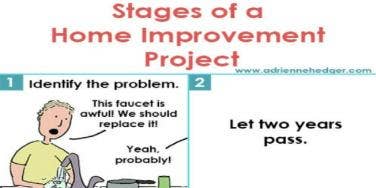 Hahaha.
Adrienne Hedger is a writer, cartoonist, wife, mother, and a girlfriend who makes you laugh when you're feeling overwhelmed by your life. According to her website, you can find her working on greeting cards, articles, cartoons for companies, and cartoons for herself and her various social media outlets.
She's co-created three humor books about parenting: If these boobs could talk, Momnesia, and The world according to toddlers.
For a taste of some of her work, here are thirteen cartoons that show the humor and the truth of married life and how home repairs can morph from something easily fixed to an hours-long saga.
1. Signs you're getting old
The signs of aging can surprise you, such as hurting your back because you slept wrong.
2. TV shows about Alaska
One person's idea of roughing it in the wilderness is another person's nightmare.
3. Falling asleep in the passenger seat
You can totally work it when you're asleep in the passenger seat.
4. A disagreement over cookies
Portion control can be helpful in many different situations.
5. Another crazy weeknight
Sleep can become way more exciting than going to the club.
6. Promising to order your own fries
No matter who orders them, fries are for everybody.
7. The dreaded "special place"
The special place is a place of fear.
8. Adding things to the to-do list
You can tame an unruly to-do list with the support of your significant other.
9. Unclogging the drain
There's something strangely intimate about cleaning out a drain.
10. SO MUCH HAIR
Sometimes repairs lead to learning unexpected things about your partner and the strength of your relationship.
11. Stages of a home improvement project
Once you identify the problem, give it some time to really develop (kind of like a fine wine).
12. Home Depot to the rescue
When you finally decide to fix something yourself rather than hire somebody, the frustrations can be neverending.
13. That feeling when the DIY is over
Actually fixing something can give you a wonderous sense of joy and accomplishment.
Previous
Next
BEGIN