Photo: Katie Kirby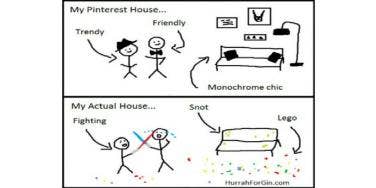 On her blog Hurrah for Gin, Katie Kirby describes herself as a Brighton-based digital marketer and mom to two lively boys. She goes on to say, "I love cheese, brushing my teeth, rabbits and gin. Gin-drinking rabbits would be my ideal companions."
Kirby channels her daily parenting challenges, frustrations and humorous insights into her original cartoons that she posts on her blog.
In an interview with The Huffington Post, Kirby explained, "I use them to depict the funny/challenging side of parenting, mostly to show other parents that they are not alone and everyone goes through the same frustrations with young children."
The feedback has been great, and while people generally follow Kirby on her Facebook page, coming this fall will be a Hurrah for Gin book that isn't a how-to guide for parents; instead, it's a book that has no useful advice whatsoever.
The book will be full of honest anecdotes and illustrations from the parenting frontline, and will show that it's more than possible to love your children with your whole being while finding them incredibly annoying and irritating at the same time.
"People tell me [the cartoons] make them feel better if they've had a challenging day with the kids," Kirby said. "I'm of the opinion that it's better to see the funny side of things and laugh about it than end up feeling down."
Here are 11 of Kirby's hilariously true parenting cartoons: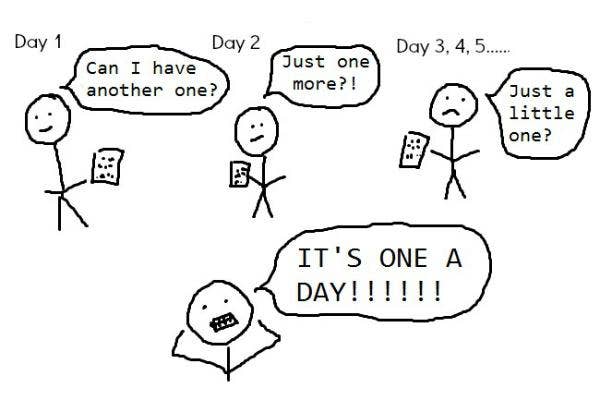 Photo: Hurrah For Gin
1. Just one more?
One a day can mean something different to a child.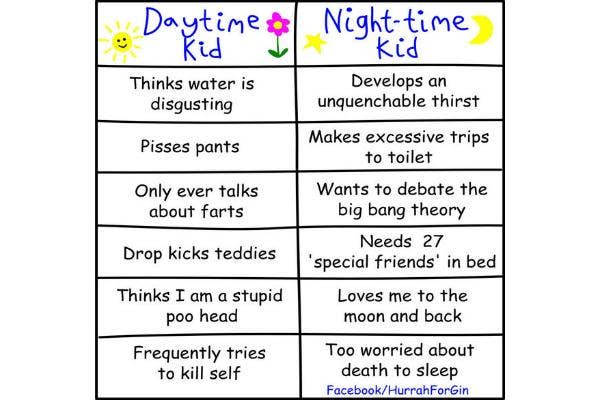 Photo: Hurrah For Gin
2. Daytime vs. nighttime kid
The truth about when your child has a split personality of the Daytime Kid and the Nighttime Kid.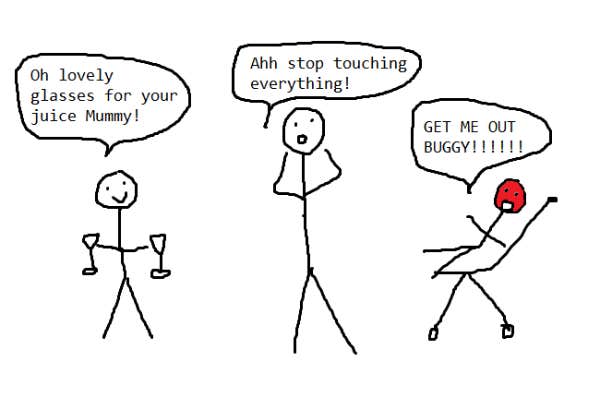 Photo: Hurrah For Gin
3. Stop touching everything.
When you're a parent, you often wish you could clone yourself to deal with everything.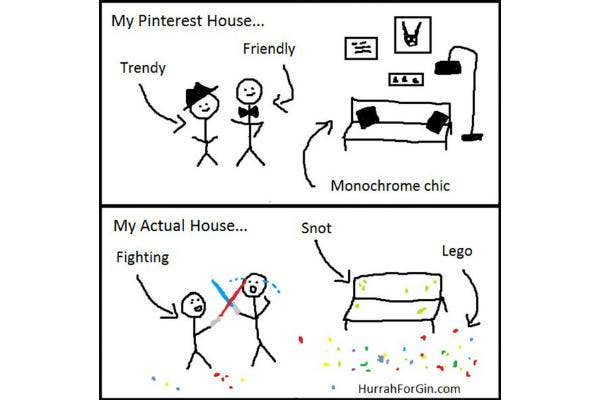 Photo: Hurrah For Gin
4. Real home vs. Pinterest life
Little kids is its own decorating style.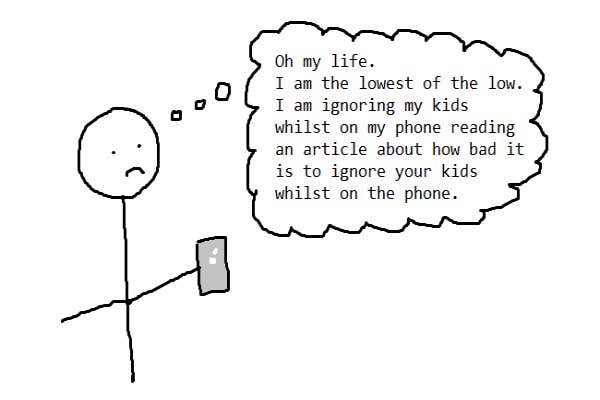 Photo: Hurrah For Gin
5. The irony of parenting.
Irony is not lost on parents.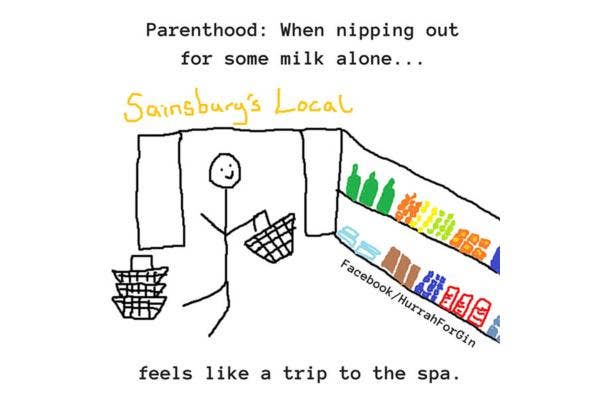 Photo: Hurrah For Gin
6. Just an hour away...
You know you're a parent when going to the grocery store feels as if you're pampering yourself.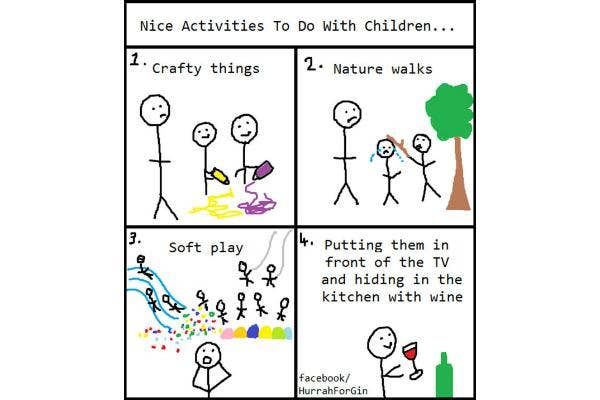 Photo: Hurrah For Gin
7. Your favorite activity.
Don't forget to do something nice for yourself from time to time.
Photo: Hurrah For Gin
8. I love my kids most... when I have wine.
A glass of wine can make everything better.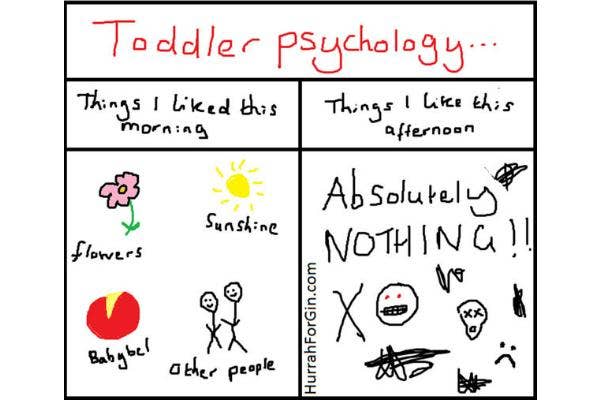 Photo: Hurrah For Gin
9. Take a course in toddler psychology.
You don't need a degree to understand Toddler Psychology.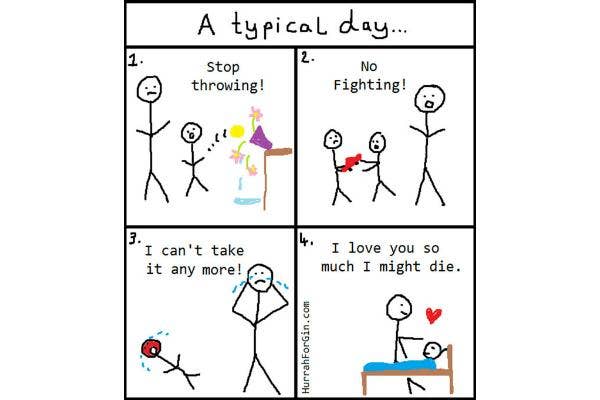 Photo: Hurrah For Gin
10. Constantly teetering between love and insanity.
No matter what happens, a bad day can turn into a great one with love.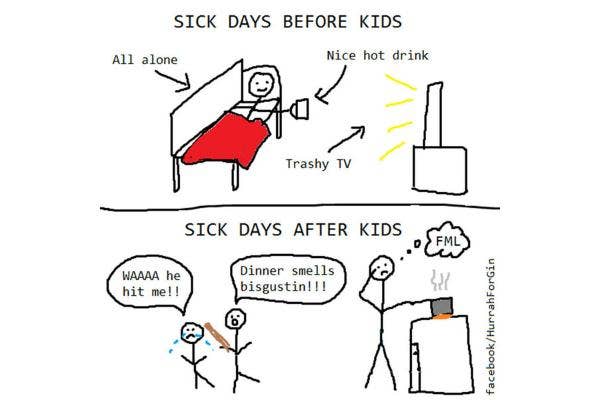 Photo: Hurrah For Gin
11. A sick day isn't about you.
Moms and dads can't call in sick to parenting.
Previous
Next
BEGIN