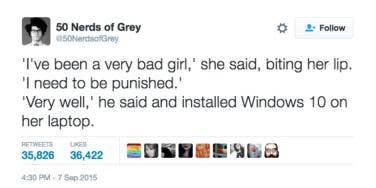 Geeky and cheeky.
If you've seen/read "50 Shades of Grey," you either loved it or hated it — there was really no in between.
While it originally published back in 2011, Anastasia Steele and Christian Grey's erotic tale has inspired literotica, memes, GIFs and parodies every year since. And it doesn't seem the hype is going away anytime soon.
"50 Nerds of Grey," a Twitter account with over 200,000 followers, has been creating internet gold with it's stories guaranteed to "turn you off and on again."
Created in 2012, the account pokes fun at nerdy topics like Game of Thrones, computer programming and all the other awkward scenarios that can happen between two geeky lovers.
Enjoy:
Everyone knows the struggle.
When your boyfriend is a man-child.
Because math can be hella sexy, right??
When you know she's just using you for your big brain.
Whew, is it getting a little hot in here or...?
This one's a little TOO real.
Who doesn't love a big file? *Obvious wink*
Never come between a man and his games.
It wouldn't be a nerd collection without a "Harry Potter" pun.
Previous
Next
BEGIN