Photo: HJ-Story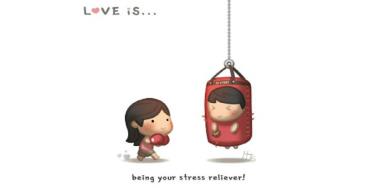 Sniff. So sweet.
Illustrator Andrew Hou is Chinese but was born in Canada. His wife Kate is Korean and the married couple live in Seoul, South Korea.
Since Korean wasn't Andrew's native tongue, he had trouble expressing his love to his wife. Since he was an artist, he decided to tell her he loved her through his art and started the series titled HJ-Story after the initials of his wife's Korean name.
The series launched in 2010 and what started as a personal blog soon became extremely popular.
"[Kate] was busy with school and I was busy with work, so we didn't have a lot of time to meet up or even talk on the phone," he said to The Huffington Post. "So during work, I'd pretend to be 'working' and create these tiny doodles and sent it to her on her cellphone."
Andrew focuses on the small events that make a relationship special and lasting, not the usual momentous occasions.
"We're all so busy and caught up in everything that we forget about the little moments that are important — myself included. Drawing HJ-Story, for me, is not only to capture the moments of a relationship but to remind me of the little moments that are easily forgotten."
Though each illustration tells a small story, you can view the entire HJ story on their website, which starts with "love is a wandering journey" and goes through the rituals of modern-day courtship. You can also find it on Instagram and Facebook.
Here are a few of the moments of HJ-story that speak the simple truth about love.
1. Love is cuddling.
"Cuddling you is the best thing in the world."
2. Love is thinking.
Thinking you're beautiful doing the simplest things.
3. Love is doing.
Love is doing the things you love — together.
4. Love is learning.
Love is learning to love what your loved one loves, and sharing what you love with them.
5. Love is memories.
The things you do together create the memories you'll always share, and they become the history of your relationship.
6. Love is laughing.
Making the one you love laugh can be challenging to say the least.
7. Love is petrifying.
Love can be the scariest of emotions.
8. Love is a stress reliever.
Love is being able to act as a stress reliever, not a stress inducer.
9. Love is speed.
There's a huge speed difference between when someone is going to work and when they're going to see the one they love.
10. Love is picking me up.
Love is picking each other up when you're down.
11. Love is storytelling.
Love is telling the person you love the stories of your life.
12. Love is saving.
Love is saving the last delicious bite for your loved one.
Previous
Next
BEGIN