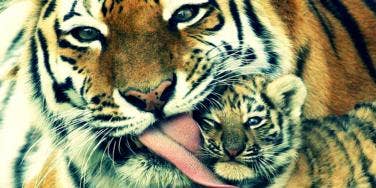 These little guys are too cute!
There's no love in this world like the love of a mother or father for a child. It's beautiful and often times can be seen across species barriers.
We're not the only ones capable of it, and these heartwarming photos of animal parents will show you that for sure.
We tend to separate animals into two different categories based on how they rear their children. Those are the R and K categories. K categories include animals like cats, elephants, and humans. They have few babies but have longer gestation periods. Their offspring tend to require more care and for much longer time.
The R category is more focused on quantity for survival. Here are some great examples of K animals:
1. Elephants
Hold mommy's trunk, dear.
Photo: Anton Belovodchenko
2. Polar Bears
Trying to escape, are we? Not under mama's watch!
4. Swans
Under mama's wings is the safest place to be.
Photo: Wolfgang von Vietinghoff
7. Lions
You're not king of the jungle yet.
8. Hippopotamus
Learning to swim from mom is the best way to learn.
Photo: Anton Belovodchenko
13. Bears
This forest will be all yours someday, son.
15. Foxes
How to not lose your mom during a walk.
16. Pigeons
Try to hurt my babies ... I DARE you.
Photo: pensivesquirrel.wordpress.com
18. Bears
Best way to beat the summer heat: swimming with mama.
20. Birds
Under mama's protective feathers.
Photo: Frederique Olivier/John Downer Productions
23. Penguins
No one touches our babies.
Previous
Next
BEGIN