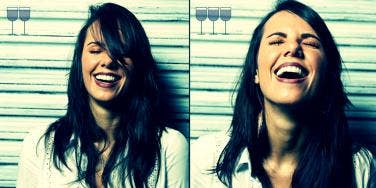 This is crazy!
Wine is pleasurable and fun but there are times when we only think of the negatives of drinking wine: drinking to excess or becoming an alcoholic. There are actually many positives to wine drinking, like how it's good for you. Wine wouldn't still be around if it was just a pathway to destruction. The truth is drinking wine is a social and enjoyable activity.
Brazilian photographer Marcos Alberti captured what his friends looked like after they imbibed one, two and three glasses of wine in his photo series 3 Glasses.
Alberti says on his website, "I started this project because if you search for alcohol on the internet you only can find bad stuff about it. I wanted to show the good side of it — of course, between friends who are drinking responsibly in a good environment. It's like portraits during happy hour."
Clearly, after each glass of wine the photo subjects get a little happier, more relaxed and less inhibited. It's pretty easy to tell that some people handle their alcohol better than others.
"At the end of every glass of wine, I took a snapshot — nothing fancy, a face and a wall, three times," Alberti said.
The idea started as a joke with his friends, with the first photos showing the stress and fatigue after a day's work. But as the wine started to kick, the participants began to relax and let their guards down.
"There is a saying about wine that I really like and it's something like this: 'The first glass of wine is all about the food, the second glass is about the love, and the third glass is about mayhem.' I really wanted to see for myself if that affirmation was in fact, true," Alberti said.
Here are pictures of 12 people from all walks of life who came together for a couple of nights, and in the process many stories were told, laughter was shared, and lots of wine was had.
Wine Drinker #1
"Really? I never thought of it like that. Funny!"
Wine Drinker #2
"I'm so embarrassed. No, I'm not embarrassed at all. You're silly."
Wine Drinker #3
"Hmm. I'm not sure. Oh, now I can see it's hilarious."
Wine Drinker #4
"Did I really just do that?"
Wine Drinker #6
"Oh my god, oh my god, oh my god."
Wine Drinker #7
After the first glass of wine, the participant is cool; after the second, he's getting a little fuzzy headed; after the third, he's completely blitzed.
Wine Drinker #8
Four shades of feeling good.
Wine Drinker #9
"Hee hee hee. I'm a naughty bunny."
Wine Drinker #10
This participant of the Wine Project is clearly feeling no pain.
Wine Drinker #11
This woman shows us the many moods of booze.
Wine Drinker #12
Alberti says, "By the end of the third glass several smiles emerged and many stories were told."
Previous
Next
BEGIN