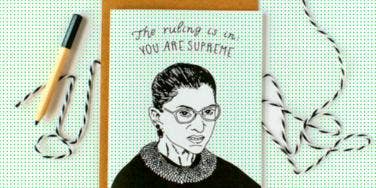 Because b*tches get stuff done.
Feminism isn't a bad word, though some people seem to think it is. But it's more than OK for you to refer to yourself as a feminist. A feminist is someone who's an advocate for the rights and equality of women, someone who questions why men are still being paid more than women in the workforce, and someone who believes patriarchy is an unjust and oppressive system to both sexes.
Feminists believe that women should be recognized for their talents, not for their looks, and that women are strong beings who don't have to depend on a man for their happiness.
So when you give a feminist a gift, why not make it something that makes a statement but is still fun, humorous and smart — just like a feminist themselves?
Here are 12 feminist gift ideas for the strong, badass ladies in your life, and your favorite feminist of all: YOU.
1. Ruth Bader Ginsburg greeting card
Let your feminist best friend know they rule with this fun greeting card. All of us, no matter how strong, did an affirmation of our awesomeness every now and then.
(Available at Feminist Apparel for $7.95)
2. Bling-y "feminist" t-shirt
These t-shirts have gold foil on the front and white print on the back that read, "Diana Kane, Brooklyn, New York." They're made from recycled fabric blend, and come in a variety of styles and two colors: pale grey or heather grey.
Don't wait to give this #feministgold gift to her; let her know she's special any time of year.
(Available at Diana Kane for $35)
3. Peruvian organic whole coffee beans
This fair trade and organic certified coffee is grown, processed and traded exclusively by women. The women decide how to use the additional funds to better their lives and those of their children.
Gift these beans to your office, and your coworkers will enjoy knowing that their morning cup of coffee not only tastes great, but is doing some good in the world.
(Available on Etsy for $7.20)
4. Rosie the Riveter shower curtain
This shower curtain is bright, unique and makes a powerful statement that both you and your roomie can enjoy.
(Available at Society 6 for $68)
5. "Bitches get stuff done" candle
Bitches get stuff done (a la Tiny Fey) is 100 percent vegan soy, which is great for the environment and has chemical-free scents with fun names that include beach linen and barbiturates, blueberry cheesecake and charm, and banana nut bread and breakdowns. This candle can help a busy parent relax for a moment.
(Available on Etsy for $15)
6. Gloria Steinem tile coaster
Pay homage to Gloria Steinem by giving this unique, handmade coaster as a housewarming gift. It's inspiring on both sides: first, a beautiful portrait; on the back, this quote from Steinem: "The future depends entirely on what each of us does every day; a movement is only people moving."
(Available on Etsy for $11)
7. Fight Like Michonne pouch
This is a great gift for any Walking Dead fan. Because nothing is more badass than fighting like a girl.
(Available on Redbubble for $26)
8. Badass feminist coloring book
This adult coloring book is a celebration of modern-day feminism. It features 40 badass feminists and includes some bonus essays. It's therapeutic, cathartic and the perfect way for you to get your art on.
(Available on Amazon for $22.50)
9. Virginia Woolf mug
The design on this bone china mug is very clever, as it's a portrait of Virginia Woolf made out of the titles of some of her famous novels. It's the perfect gift for the voracious reader in your life, or someone who just wants to look well-read.
(Available on Etsy for $13.14)
10. Shower decor
Let your niece know you don't just want her to grow up pretty, you want her to grow up to be a strong, independent and self-sufficient woman. This shower art is a great reminder that women don't need to be rescued or saved — they can take care of themselves just fine.
(Available on Etsy for $45)
Photo: homoground.storenvy
11. Feminist playing cards
You don't have to be anti-men to be pro-women, and your father has demonstrated how a man can be a feminist. Why not gift him with this limited edition playing cards? It will make poker night so much more interesting.
(Available at Homoground for $25)
Photo: Fourth Wave Apparel
12. Vintage suffragette temporary tattoo
Nothing says fight the patriarchy quite like a temporary tattoo and clenched fist. And any feminist is more than happy to remind others of how suffragettes fought for our right to vote.
(Available on Fourth Wave Apparel for $3)
Previous
Next
BEGIN