Photo: Hot Topic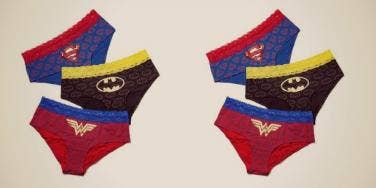 GEEK CHIC.
The myth of fake geek girls is just that: a myth. How do I know? Because I'm a geek girl and am damn proud of it!
Urban Dictionary defines the term as "Females of all ages who possess a passion and knowledge for all things geek, including science fiction, science, technology, comics, anime, computers, gadgets, coding, web development, role playing, conventions, cartoons, action figures, gaming, robots, space, etc."
Geek girls don't have to love everything in this genre, but they're more likely to love a good combination of the above mentioned, and more. They can proudly display their love of such things through t-shirts, accessories, massive figurine and plush doll collections — and even sexy underwear.
Yes, from Doctor Who panties to Star Wars underwear sets, geeky undies for all types of geeky girls exist. How can they not? Who wouldn't want to own a pair of undies that proudly displays your Hogwarts House? And no, they aren't boring granny panties; they actually happen to be quite sexy.
Check out a few of our faves. If you look hard enough, you'll surely find one that calls out to you.
3. Hogwarts House panties
4. Nightmare Before Christmas boy shorts
5. Star Trek panties
Whether you're exploring the stars or just taking a trip to the store, identify your Star Fleet rank and station with these Star Trek panties.
6. Star Wars matching bra and panties set
7. Supernatural panties
You're definitely going to be monster-hunting and demon slaying-ready with this comfy pair of Supernatural panties.
Previous
Next
BEGIN