Photo: Twitter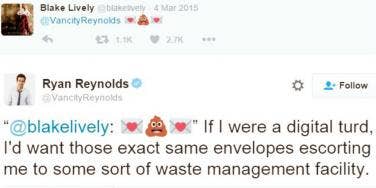 #Goals!
They say that actions speak louder than words. But in the world of the internet, words are powerful. They have a lasting impact, giving us a glimpse of the person behind the words.
These days, the existence of social media allows us to show how we feel about another person, and it's out there for the world to see. This is especially beneficial for celebrities, who want to connect more to their fans.
So it's no wonder bits and pieces of their love life can make its way into the Twittersphere. And honestly, it makes some of us a little jealous.
Tweets from this list of celebrity couples are too sweet, sappy, and are our ultimate #RelationshipGoals. Seriously, we wish our relationships were like these.
1. Gwen Stefani and Blake Shelton
When you can melt hearts with just a few seconds of video, you know you've found the one.
2. Chrissy Teigen and John Legend
Growing old isn't all that bad if you have the love of your life by your side.
3. Channing Tatum and Jenna Dewan-Tatum
Sometimes our partners do change us, but for the better. And it doesn't hurt to admit that publicly, either.
4. Lady Gaga and Taylor Kinney
Nothing is more romantic than poetry, after all.
5. Chris Pratt and Anna Faris
Even though you spend a lot of time with another female on set (even if it is a Velociraptor), you reassure them that they're still the only one in your heart.
6. Joe Manganiello and Sofia Vergara
You know it's true love when he's willing to press his lips to a random wall bearing your image.
7. Ryan Reynolds and Blake Lively
An inside joke, maybe? Either way, if you can handle her poop humor, you can handle anything.
8. Dax Shepard and Kristen Bell
When you're just so proud of her beauty, grace and success, you can't help but boast about it to the whole world.
9. Victoria and David Beckham
Every trip is an adventure with the love of your life.
10. Barack and Michelle Obama
After 23 years of marriage, two children, two terms as commander-in-chief, a bunch of rumors aiming to destroy your marriage, and she's still the one? It's forever!
Previous
Next
BEGIN