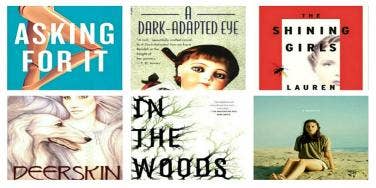 Remember books? Sure you do. They're like Netflix but you have to use your brain-meats.
When I was a kid, I was an voracious reader. That's right, it should come as no surprise: This girl was a massive nerd. My parents were deeply understanding. As long as I was tucked away in my bed, I could stay up all night reading, and I often did.
I subsisted on a diet of words. It didn't matter what they were as long as the story pulled me in. I was just as entranced by Little Women as I was by Are You There God? It's Me, Margaret. I had a fever and the only prescription was more fiction. If said fiction contained butt-touching, all the better.
I'm just as big a reader now that I'm in my 30s. But because I have, you know, a job and a life and stupid adult responsibilities, it's hard for me to stay up in my bed until all hours reading. I'll be real: when my butt hits that Egyptian cotton (lol, I wish) I'm usually down for the count.
In order to keep me flipping the pages until sunrise, I need a story that's exceptionally compelling. As a slut for totally-engaging-forgetting-it's-a-Monday books, I thought I would take this opportunity to share my favorite un-put-down-able books here with you.
1. A Dark-Adapted Eye by Ruth Rendell
Barbara Vine is the pseudonym used by British mystery writer Ruth Rendell. Although technically genre-fiction, don't turn your snotty nose up at what Rendell has to offer, especially when she's writing as Vine.
Under this name, Rendell explores the tenuous nature of interpersonal relationships, especially in the family. What begins as a story of two competitive sisters turns into a dark custody battle that's beyond gripping.
Purchase it here.
2. In the Woods by Tana French
I swear to you, I'm not obsessed with mystery novels. The second book on my list just also happens to be one. But hey, this one's by an IRISH woman! So that's different than number one.
If you read one Tana French book, prepare to be hooked. Two detectives work to solve the murder of a 12-year-old girl. Because this is gritty, un-put-down-able fiction, the girl's body is found in the woods where one of the detectives experienced an unresolved childhood trauma of his own. You will become OBSESSED.
Purchase it here.
3. Through a Glass Darkly by Karleen Koen
I read Through A Glass Darkly once a year. It's a grandiose romance set in 18th century England and it's got everything: fashion, romance, politics, history, and, you know, a prolonged discussion about the financial markets of the time.
But that's cool, because there's a TON of boning, and it's hotter than hot. The story follows the youthful Barbara who struggles to please her family while following her heart. I made it sound cheesy, but it's NOT.
Purchase it here.
4. Deerskin by Robin McKinley
Robin McKinley is an acclaimed young adult writer whose retellings of fairytales have inspired kids for decades. I once wrote her a fan letter and she wrote me back even though she had mono, because she's boss as hell.
Deerskin might be a fairytale but it definitely isn't for kids. When Lissla Lissar's mother dies, her father (the king) is sent into a spiral of grief and madness. His actions force Lissla from the castle and into hiding to heal, rediscover herself, and eventually get the revenge she deserves.
Purchase it here.
5. Set This House in Order by Matt Ruff
You probably haven't read Matt Ruff. I'm not being a dick, it's just that I'm always talking about the guy and people are always like, "Why are you talking about this writer I've never heard of?" He's brilliantly gifted.
It's hard to pick just one book of his to put on this list. But since Set This House in Order chronicles the interior and exterior life of a person with multiple personality disorders, it's particularly gripping. Warning: You might miss your subway stop with this one.
Purchase it here.
6. Excavation by Wendy C. Ortiz
I'm not one to brag (yes I am), but Wendy Ortiz and I follow each other on Twitter. That's because she's a wonderful person who wasn't remotely skeeved out when I cyber-hunted her down to tell her how much this memoir meant to me.
Excavation jumps between the past and present as Wendy unearths a relationship she had with a middle school teacher that lasted throughout her teenage years. Wendy's writing is fearless, sharp, funny and raw.
Purchase it here.
7. The Shining Girls by Lauren Beukes
I can sell you on this one in four words: Time. Traveling. Serial. Killer. If Looper met Silence of the Lambs, their baby would be The Shining Girls.
When a woman is nearly murdered by a time-traveling psychopath, she has to go on a specific and difficult quest to stop him for good. (Confession: I slept with the light on when I was done.)
Purchase it here.
8. Rock, Meet Window by Jason Good
When Jason Good's father is diagnosed with stage four cancer, he picks up a pen (well, he probably sat down at a computer) and wrote this touching, funny, and dark account of their relationship.
Their relatively functional and super-specific relationship is rendered beautifully. You won't want to let either of them go.
Purchase it here.
9. Asking For It by Louise O'Neill
Rape culture is a subject that's still deeply uncomfortable for many people. And it should be: There's nothing easy or OK about the way victims of rape are treated in our society.
This novel about a Regina George-esque mean girl who finds herself the victim of a gang rape and a full-scale social media attack, is hard to read but impossible to put down. The ending will leave you raw in the best sense of the word.
Purchase it here.
Previous
Next
BEGIN