Photo: marijkethoen.be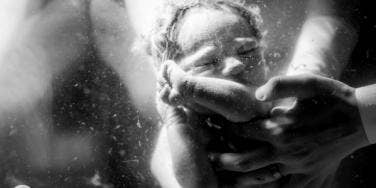 There's a reason it's called labor.
It's not often that we see images of labor, birth and postpartum in all their realistic, raw and stunning glory. Giving birth is as painful, messy and beautiful as it is joyous.
These photographs were entries in The International Association of Professional Birth Photographers (IAPBP) Annual Image of the Year Competition, and all of them showcase the full range of emotions that the birth experience holds.
The judging panel included former talk show host Ricki Lake and documentary filmmaker Abby Epstein, who directed the film The Business of Being Born. This photo series, featuring photographers from all over the world, shows women giving birth at home, in hospitals, via caesarean section, and in water baths.
They're raw and intense, but they're stunningly beautiful, honest, and visually stunning images of the reality of giving birth. The journey of childbirth is miraculous, and requires a lot of hard physical and emotional work.
2. A family together after birth
"Giving birth is one of the most empowering, beautiful, and important events in your life," says Denver birth-photographer, Monet Nicole.
3. Caesarean section
The moment when the surgeon carefully removed a newborn from its mother was captured by Brazilian photographer Daniela Justus.
4. In between two worlds
Photographer Alexandra Kayy highlights the moment a baby takes its first breath.
5. Water birth
In addition to being a photographer, Angela Gallo describes herself as a globe-trotting doula. In this photo, we see a mother floating in a water tank as her baby's head starts to crown.
Photo: Krista Evans Photography
6. In the shower during labor
Photographer Krista Evans shares a mother's quiet moment during labor.
Photo: Natalia Walth Photography
7. The calm after the storm
"Just like any other birthing mother, she went through moments of denial and then moments of complete surrender," Natalia Walth says.
Photo: Birth Blessings Photography
8. Twin birth in the tub
"I absolutely love my job as a professional birth photographer! Each birth I attend is like showing up to witness a miracle from God," photographer Robin Baker says.
Photo: Apple Blossom Families
9. Mid-labor
"I witnessed many animals give birth in my presence, which taught me to believe in the natural process of life and enjoy the beauty of birth," says photographer Morag Hastings.
10. Afterbirth
"Birth should be celebrated and women should feel empowered as they embark on this incredible achievement," Bridget Clarke says.
Previous
Next
BEGIN