Photo: LoveByte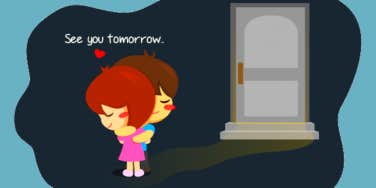 So sweet we can barely stand it.
With real love, it's the little moments that connect us and strengthen our relationships. It's your boyfriend bringing you chicken soup when you have a cold, or your girlfriend putting her cold feet on yours to warm up.
LoveByte is a mobile application for couples to stay connected and loving by documenting their memories. The app's purpose is to help couples stay bonded by documenting their happy memories in their own private space.
LoveByte created these "Love Is" illustrations to capture the different interpretations of love, and the special moments and ways that couples in love share. These illustrations demonstrate that it's not the big grand gestures that are the foundation of a lasting relationship, but the small, everyday occurrences.
1. Love is getting angry because you care.
Sometimes you just need a little tough love.
2. Love is wanting your attention.
Even the smallest signs of affection mean the world.
3. Love is putting in effort for you.
You should always put in effort, especially for yourself.
4. Love is wanting to annoy you.
What better way to show someone you care?
5. Love is wanting to stop time when you're together.
You always miss them, even if you're gone for a minute.
6. Love is steering each other in the right direction.
You need each other for that balance.
7. Love is seeing you even when you're not here.
But absence makes the heart grow fonder.
8. Love is when you think about each other when you're having fun.
Don't you always think, "Wow, I wish you were here"?
9. Love is not wanting to hang up.
You hang up first. No, you.
10. Love is saying "I love you" at random moments.
And that's when it matters most.
11. Love is learning new things as you grow old.
Hopefully growing old together.
12. Love is wanting to deliver your love personally.
There probably isn't a stamp big enough for your love envelope.
13. Love is doing mundane things together.
It's in these moments that show how truly comfortable you are with one another.
14. Love is waking up to a text from your loved one.
Don't you just love those "good morning beautiful" texts?
15. Love is that smile when you're texting someone special.
You know the one — that cheesy grin.
16. Love is hoping that some things never change.
You probably wish you could control time so being together never ends.
17. Love is never letting you cry alone.
All you really need to feel better is a warm embrace from your loved one.
18. Love is becoming overly comfortable.
That's when you can truly be yourself.
19. Love is wanting to be in the same photo.
You can get as close as possible by taking a selfie.
20. Love is taking turns to do what each other likes.
A great way to show someone you love them is to do things they enjoy.
21. Love is seeing them next to you when you're sick.
Being with your loved one is better than hot soup and a blanket.
22. Love is sleeping in together on weekends.
And waking up next to each other the next morning.
23. Love is cuddling in front of the TV.
What's better than watching your favorite show with your favorite person?
24. Love is your warmth.
Both in touch and emotion.
25. Love is washing up without being asked.
Or doing anything without being asked, just because you love them.
Previous
Next
BEGIN