Photo: Photo: We Heart It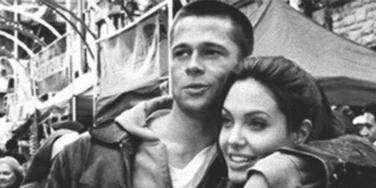 If there was any doubt Brad couldn't pull off everything, then this might squash that.
Brad Pitt is certainly a looker, but since he's an actor he tends to switch up his look often. Most recently, he's been spotted with gray hair on the set of his upcoming movie, War Machine. He definitely makes for a silver fox.
But what about all of the other times the actor switched up his look to the point of being unrecognizable? Here are eight times Brad Pitt made us do a double take.
1. War Machine
The actor dyed his blond hair to grey for this upcoming movie.
2. The Curious Case of Benjamin Button
3. The Big Short
The heart throb actually looks like a regular guy with his beard and glasses in The Big Short.
4. Interview With the Vampire
5. Johnny Suede
If you're going to play a rock star, you need a crazy hairstyle! Brad wore this in Johnny Suede.
6. Troy
In Troy, the actor had long hair, but also donned an interesting beach braid.
Photo: Interview Magazine
7. Brad Pitt with dreadlocks
8. Brad Pitt with long hair
In the 90's the heart throb embraced the grunge look, and we must say we approve.
Previous
Next
BEGIN