Photo: weheartit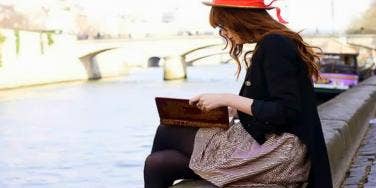 Bookworms, UNITE.
With all of the buzz-worthy books coming out this spring, I bet you're asking yourself: Where do I start?
Fear not! We've put together a list of the top spring releases written by some of the fiercest and most talented women authors. Literature, love, mystery, suspense — you name it, they've got it.
Happy reading!
1. Somewhere Out There by Amy Hatvany
Abandoned at an early age, sisters Natalie and Brooke are separated and forced into two different homes. Natalie Clark is taken in by a nice family, while Brooke Walker is brought up in a state facility system, relying on herself to survive.
Thirty-five years later, the two are reunited, but will they be able to build a relationship despite their drastically different upbringings?
Critically acclaimed author Amy Hatvany brings readers a riveting, controversial story of how impactful our childhood experiences are in defining us as adults.
Purchase it here.
2. Shopaholic to the Rescue by Sophie Kinsella
Becky Brandon (née Bloomwood) is on a rescue mission through the American West to Las Vegas. Her father has gone on a mysterious quest with her best friend's husband, leaving Becky's mom hysterical and her best friend, Suze, desperate.
Determined to get to the bottom of the disappearance, help her best friend, contain her sworn enemy, and reunite her family, Becky must pull out all the stops. The result: Becky's craziest plan and most hysterical adventure yet!
Purchase it here.
3. Losing the Light by Andrea Dunlop
When she unexpectedly runs into a man from her past, thirty-year-old Brooke Thompson is brought back in time to her summer abroad in France, a summer she has spent years trying to forget.
It was a time when Brooke was friends with Sophie, a girl with a pretty face that hid her emotional instability. It was a friendship that changed forever when the pair got tangled up with Veronique and Alex, and a life full of art, money, and decadence. And in the end, only one of the two friends will make it home.
Purchase it here.
4. The Expatriates by Janice Y. K. Lee
New York Times bestselling author Janice Y. K. Lee is back with a novel that explores the lives and emotions of three American women living in a Hong Kong expat community.
Mercy is a young Korean American with a traumatic past. Hilary is a wealthy housewife desperate to have a child in order to save her unstable marriage. Margaret has recently suffered a loss that leaves her questioning her maternal identity. While each woman struggles with her own problems, their lives will collide in ways that will leave them all changed forever.
Purchase it here.
5. The House of Bradbury by Nicole Meier
Mia Gladwell is unattached, unemployed, and uninspired. Her debut novel got bad reviews, her fiancé left her, and she's living with her sister. Convinced that it will inspire her and get her out of her rut, Mia buys the estate of iconic author Ray Bradbury.
Soon after moving in, Mia finds herself living with an unpredictable starlet, balancing the watchful eye of her sister and needy ex, and receiving mysterious sketches from a stranger. Mia begins to wonder if moving into Bradbury's house was a big mistake or best inspirational move of her life.
Purchase it here.
6. The Opposite of Everyone by Joshilyn Jackson
Paula Vauss' life changed at an early age when she decided to tell a story of her own. Her mother went to jail and Paula found herself in foster care, their relationship ruined.
Fifteen years later, Paula receives a cryptic note from her mother, and her mother's biggest secret lands on her doorstep, turning Paula from an only child to a sibling. Paula sets off on a journey with her ex-lover to find her mother. But can the woman who's skill lies in breaking relationships find a way to rebuild one?
Purchase it here.
7. Glass Shatters by Michelle Meyers
A man wakes up in an unrecognizable house, remembering nothing about himself. Throughout the house are clues about the man's identify and past. He learns that he is Charles Lang, a scientist whose wife and daughter mysteriously disappeared years ago.
The more he uncovers, the more Charles realizes that the only way he will find his daughter and wife is if he puts all the clues together to discover the truth about his former life. Glass Shatters is a haunting tale that blurs the lines between fiction and reality.
Purchase it here.
8. A Criminal Magic by Lee Kelly
It's 1926 in Washington, D.C. Despite the Prohibition of sorcery, the magical underworld is booming. After her family's home is repossessed, sorcerer Joan Kendrick joins the Shaw Gang, a notorious crime syndicate. Alex Danfrey is assigned to go undercover, infiltrating the Shaw Gang.
Despite their opposing allegiances, Alex and Joan instantly fall for each other. But can their relationship last in a magical world where alliances and motivations shift faster than the blink of an eye?
Purchase it here.
9. The Moonlit Garden by Corina Bomann and Alison Layland
Widowed at an early age, Lilly Kaiser has finally come to terms with her solitary life, until a stranger delivers her a violin, claiming it's hers. Together with her best friend, Ellen, and the dashing musicologist, Gabriel Thornton, Lilly embarks on a journey across continents to discover the violin's legacy.
During the journey she learns about Rose Gallway, the past owner of the violin who mysteriously disappeared a hundred years ago. As Lilly learns more about Rose, her own life begins to change, showing Lilly that her life of solitude may not be as endless as she once thought.
Purchase it here.
10. The Past by Tessa Hadley
Three sisters, a brother, and their children gather for a three-week-long family reunion that will change everyone. Beneath the façade of their perfect past lay devastating secrets, scandalous passions, and dangers that threaten to consume them.
As secrets and stories come to light, the family's way of life comes to its inevitable end, leaving readers in awe of author Tessa Hadley and her extraordinary ability to write a captivating story.
Purchase it here.
11. A Girl Like You by Michelle Cox
It's 1935, and things have still not gotten better for Henrietta Von Harmon since her father's suicide, which left Henrietta to take care of her mother and younger siblings. Henrietta gets a new job, and things are finally starting to look up when someone turns up dead.
Henrietta agrees to go undercover into Chicago's underworld to investigate for Inspector Clive Howard, all the while fending off the neighborhood boy who thinks he's in love with her. As the investigation draws on, Henrietta and Clive find themselves drawn to each other in the most unsuitable of ways. A Girl Like You is a must-read that will leave readers hooked until the very end.
Purchase it here.
12. Piece of Mind by Michelle Adelman
At age three, Lucy suffered a traumatic brain injury, rendering her incapable of relating to most people. Even though the now twenty-seven-year-old Lucy knows everything about coffee, comic books, and the Central Park Zoo polar bear, she's messy, disorganized, and incapable of keeping a job.
Unexpectedly, Lucy's safe life is shaken up when she's forced from her home into a cramped studio apartment with her younger brother. Lucy must adapt to this new life, learning in the process that she may be stronger than she ever imagined.
Purchase it here.
13. What Is Not Yours Is Not Yours by Helen Oyeyemi
The keys to a home, the keys to a heart. There are many types of keys, metaphorical and literal. Author Helen Oyeyemi's keys unlock aspects of her characters' lives, which lead to even more mysteries.
Oyeyemi weaves together multiple stories and landscapes to create coexisting realities. Is a key a gate, a present, or a summons? The award-winning author explores the many possible answers in her latest collection of intertwined stories.
Purchase it here.
Previous
Next
BEGIN