Photo: Cristin More Photography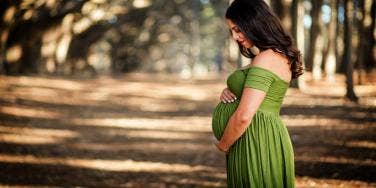 So beautiful.
Pregnant women are known for having a special glow about them. All expectant mothers are beautiful, though they may not always feel like it with everything going on with their bodies.
Here are some maternity photos that confirm how lovely and amazing women are during pregnancy, from a variety of photographers, all with their own unique sense of style and all artfully created. These stunning photographs will take your breath away with their beauty.
1. Standing on the beach
Beautifully serene on the sand.
Photo: Instagram.com/sproutinghearts
2. Visualizing holding her baby for the first time
Practice your breathing exercises so you'll be ready for the big day.
Photo: memoryvaultmedia.com
3. A moment of calm
Relax now. You're going to need all your energy once the baby arrives.
4. Running through a field
A gorgeous pregnant woman in a field.
Photo: Ashlee Crowden Photo
5. Reflecting on the life ahead
Pregnant mothers often take time to reflect on the life changes ahead.
6. Feeling vibrant in yellow
This beautiful expectant mother is looking like a queen.
7. Standing by the bridge
Out in nature, with flowers in her hair.
Photo: Redhead Photography
Photo: Jennifer Demo Photography
9. Beautiful couple awaiting their child
Treasure the calm before the storm.
Photo: Brianna Noelle Photography
10. Family celebrating a new addition
This beautiful family is about to get bigger.
Photo: Rachel Smith Photography
12. A mother and two daughters
Soon to be a mother of three.
Photo: Cristin More Photography
13. Standing under the trees
The sunlight peeks through the trees on a lovely woman in green.
Previous
Next
BEGIN