Photo: Karen Rosetzsky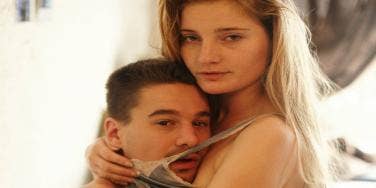 Oh, our hearts.
No matter how dramatic and complicated your life becomes, you never forget that first love.
Danish photographer Karen Rosetzsky's photo series and book Young Love features photographs of couples (all under the age of 25) from all around the world. These couples may be different nationalities but they all share that magical yet unsophisticated love we all had at one point.
Looking at these images, you feel like you've caught the couple in an unguarded and emotionally honest moment. We're voyeurs of how beautiful and vulnerable young love is. The subjects of these photographers trust us to see them without judgment.
"I have always been inspired by that unspoiled and sometimes uncomfortable chemistry between young people," Rosetzky said.
Every picture tells a story, but it's up to us to fill in the details with our imaginations and memories. Do you remember that first kiss or how the bodies of you and the person you loved seemed to fit together perfectly? You'll never have that feeling of young love again, but you can remember the beauty and intensity of how you once felt.
Here are some of the stunning and emotionally evocative pictures from the book.
Photo: shop.halal.amsterdam
1. Kissing in a pool
Surroundings don't matter when you're joined together in love.
2. Embracing during a sunset
When you're with the one you love, you forget the rest of the world.
3. Having fun in the kitchen
Love is love, no matter your gender.
4. Sunday morning love gazes
There's so much to explore, with every touch exquisite.
5. Chilling in the bedroom
You have a need to be connected, no matter how slightly.
Photo: shop.halal.amsterdam
6. An embrace full of love
Love can be awkward and uncomfortable.
7. A couple naked and laughing
Sex isn't always serious — it can be silly and fun.
8. Indulging in the great outdoors
Open and vulnerable, yet comfortable in your own skin.
9. A quick kiss through the windshield
10. Moving together as one
These photos are stunning, with and without color.
11. Sitting at the table, enjoying breakfast
You can tell how happy this couple is, just by the look in their eyes.
12. Passionate kisses for a couple truly in love
It's a kiss that will last forever.
Previous
Next
BEGIN